01.21.09
home | metro silicon valley index | columns | style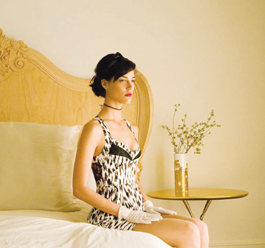 TRANSPARENCY: The zebra court dress by Yaya Aflalo has lace inserts at the bust and back.
Style
Lace It Up
By Jessica Fromm
FORGET the '80s Madonna look—lace is a big trend this season, but it is all about being ladylike and a little revealing, not slithering around onstage with "Boy Toy" strapped to your midriff. A detail no longer shunned to intimates and evening wear, a touch of lace can now be incorporated into outfits on a day-to-day basis without looking tacky.
The dark, romantically gothic lace look was all over the winter 2008 catwalk, with fashion powerhouse Prada featuring the detail on almost all their fall runway pieces. With pretty white and cream versions infiltrating many collections this spring/summer 2009, the trend is showing no signs of stopping.
Work lace into your everyday wardrobe right now by keeping cuts modest. By pairing this trend with something a little prudish, it is possible to play up black lace's delicate, grownup traits with a hint of peek-a-boo sexiness.
There are a lot of cute little lace cocktail dresses being sold now that are perfect for making a subtle, see-through statement. Lace it up with the froufrou details, like those seen on Caroline Hedaya's silk-charmeuse Lace Ruffle Dress (www.carolinehedaya.com). Transparent lace insets add an interesting twist to a frock, especially when paired with a print, like the Zebra Court Dress by Yaya Aflalo (yayaaflalo.com).
For an edgier, more rock & roll take on the whole black-lace trend, check out dresses by U.K. brand Religion, which has been playing around with dark sheers for a few seasons now (www.religionclothing.co.uk/). If you're feeling bold, you can even pair Cheap Monday's lacy Brenda Body Suit with snug skinny jeans and a motorcycle jacket (www.cheapmonday.com).
One of the most poplar (not to mention flirty) applications of lace is when it's lined with a nude-colored underlay. Though more appropriate for your next hot date than the office, this seductive effect remains classy by leaving just enough to the imagination. The form-fitting Nicole Miller Jessica Stretch Lace Dress will keep you smokin' for your next night out (www.nicolemiller.com).
Accessories haven't been left out of this look, with headbands, purses and shoes bearing the patterned cloth. Check out Givenchy's spring 2009 collection, which has a line of black lace booties and sandals that are simultaneously provocative and chic (www.givenchy.com).
One of the best and most cost-effective ways to try out this trend is by purchasing a pair of dark lace tights or leggings. Next to fishnets, lace has to be one of the most discreetly sexy patterns for legs. Everybody from Saks Fifth Avenue to Target is carrying them right now, so take your pick of lengths and patterns, and use them as the main accessory to an outfit.
With lace leg wear, the trick is to not appear like you're pulling tricks. Skip the mini and don it under a knee-length pencil skirt and some solid leather footwear, like knee-high boots or leather pumps. If even this is too flashy for your taste, try layering lace tights over a pair of sheer black tights. By doubling up, it is possible to get a more understated texture without the outright black-on-nude lace look (it's great for chilly days, too).
As for spring, remember that a splash of ivory lace can look dainty and innocent, but it also has the potential to appear bridal, or as if you're sporting your grandmother's old tea doilies. Stick to sharp, elegant silhouettes and skip that low-quality itchy lace for patterns that won't give you a rash. As always, don't overload one outfit with this trend—pick one piece and play it up. Just because lace is one of the most popular fabrics this season doesn't mean you now have a green light to start dressing like an extra from Desperately Seeking Susan.
Send a letter to the editor about this story.