11.23.08
home | metro silicon valley index | columns | silicon alleys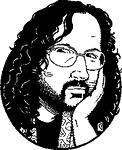 Silicon Alleys
The Tiffany Files
By Gary Singh
THIS WEEK, a wholesome local-boy-makes-good tale. Since not many Homestead High School graduates find themselves the subject of a documentary, I just had to go yak with Jeffrey Deane Turner, one of the heroes depicted in the new independent film, I Think We're Alone Now, which premieres at the Slam Dance Festival in Park City, Utah, this week. If you've never heard of him, Turner rose to glory two decades ago for allegedly stalking teenage pop star Tiffany. In my opinion, he's totally harmless, but due to the turbulent details surrounding the whole scenario, she originally had to put a restraining order on him and I can see why he would give some folks the creeps. But that was then, and now he is one of two die-hard Tiffany fans profiled in this movie.
I recently breakfasted with Mr. Turner and, believe me, his poetic allegiance to all things Tiffany is merely a smidgen of the congested smorgasbord of realities that he operates in. Throughout what could only be called a mind-blowing sensory-overload conversation, Turner offered his take on a vast cosmology of crimes, cons and conspiracy theory in just 20 freaking minutes. My already convoluted brain was stuffed to the gills after ingesting it all.
We hooked up for brunch at the Attic in Santa Cruz, where Turner now lives. I had eggs Benedict and he had an omelette with chicken apple sausage. While a flute and piano duo performed a few Bach sonatas, Turner told me his dad was part of the original P.O.B.O.B, the Pissed Off Bastards of Bloomington, the late '40s biker gang that morphed into the Hell's Angels. He met Charles Manson in the late '60s but refused to be indoctrinated into his family, and he also met David Berkowitz, the "Son of Sam" serial killer, when he used to hang out here in the South Bay in the '70s.
Turner then weaved a brutally staggering conspiracy tale about a triangle of secret societies. Drum roll, please: The '60s sexpot Tuesday Weld is the descendent of a bloodline of Druidic witches who indoctrinated her into the Illuminati at a young age in order to secretly unleash drug culture throughout that decade. In the Illuminati, he says, Bob Hope was the entertainment director and the Rosicrucians are now currently the society's branch of research and development. And this particular Illuminati society is currently battling it out behind the scenes against what Turner calls the "old secular right/international fascism," which is now revamped vis-à-vis a worldwide underground expansion of the infamous Process Church of the Final Judgement and spearheaded by a person Turner says is another Homestead High School graduate. During our breakfast, he gave every single detail about this other Homestead grad's life.
As I finished my eggs Benedict, Turner told me that Tiffany herself is the founder and leader of a third secret society, the All Nations Group, and that she was initiated into the Sufi tradition but is also a Pentacostal Christian. Now, admittedly, Adam Gorightly in Steamshovel Press beat me to this story a while ago, but whoa, man. I'm into it. I almost wish I had gone to Homestead and not Leigh High instead.
"Everything I say is documented in some way or other," Turner told me as our breakfast came to an end. "Here's something: there's no conspiracy for the simple reason that everything is out in the open and you can verify and find information on almost everyone and everything. Some people think there's conspiracies, but it's all out in the open."
That right there, ladies and gentlemen, is a slice of the Jeff Turner Experience. Homestead should be proud of this distinguished alumnus.
Contact Gary Singh or send a letter to the editor about this story.