01.23.08
home | metro silicon valley index | the arts | stage | review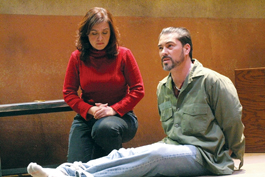 Photograph by Felipe Buitrago
CAPTIVATING:: Schoolteacher Julia Cortes (Minerva Garcia) encounters Che Guevara (Mauricio Mendoz) in 'School of the Americas.'
The Other Che
From 'Motorcycle Diaries' to Teatro Visíon's 'School of the Americas,' playwright José Rivera tracks the revolutionary icon
By Marianne Messina
WHEN DASHING actor Mauricio Mendoza enters the small rehearsal studio, he greets everyone warmly—a handshake, a hug and the kind of eye contact that wins friends and influences TV cameras. With credits that include film, voice-overs and the Showtime series Resurrection Blvd., Mendoza's star power will come in handy in his upcoming role as one of the most charismatic figures of the 20th century: the controversial, Argentine-born Cuban revolutionary Che Guevara. Teatro Visíon's West Coast premiere of School of the Americas starts Friday.
Written by José Rivera, who wrote the screenplay for another Che biopic, The Motorcycle Diaries, Teatro Vision's School of the Americas takes us far from the film's Che, a young, relatively apolitical traveler on an eye-opening trip though Latin America. Where Diaries director Walter Salles sought to minimize politics and foreground the coming-of-age story, Rivera's play humanizes the politics against a background hinting of romance.
Research for the film script led Rivera to a 1996 Swiss documentary on Che's final, failed campaign in Bolivia (Che had kept a diary). The documentary included an interview with a Bolivian schoolteacher who claimed to have spoken with Che—held captive in her schoolhouse—the day before his death. Since her account of their actual conversation was sketchy, Rivera knew instantly he had a play.
Over neatly slicked-back hair, Mendoza tries on a black, straggly haired wig, which has the familiar wild Che look, and Teatro Visíon director Wilma Bonet celebrates: "I won't do a thing to it."
Then as stagehands struggle to bind Mendoza's hands and stockinged feet with rope, stage manager Dinne Vega explains that this constant bondage means Mendoza has to be "loaded up" into the roll-out schoolroom before the act begins.
For rehearsal, they push out a desk, but Vega points to a small model of the compact one-room schoolhouse where most of the play's dense dialogue and action will take place. Still, descriptive props are at hand for the rehearsal: pencils, books, a globe on the desk, small stools and two black music stands that turn out to make an excellent chalkboard. Soon everything flies—books, globe, pencils and stools—when a thunderous Che turns to anger.
Mendoza spends a lot of time bound in ropes, hand and foot, not to mention deeply lost in his character, yet he negotiates the logistics seamlessly. When he interjects "Pull me up" or "Give me a couple of seconds, so I can get the breathing," it's hard to tell if he is in or out of character. The breathing he refers to is the jagged gasping of someone wounded and struggling for air.
According to reports, Guevara was shot in the calf before being taken captive. And as his diaries attest, he had also spent a good part of the past 11 months hungry, in poor health and suffering from acute attacks of the asthma that plagued him since childhood. In the play, the village teacher Julia Cortes (Minerva Garcia) is outspoken and the type of woman, according to Che's guard Felix (David Caballero), that Che is a magnet for.
Bonet oversees the run-through with little interruption. Though the studio is small and the lighting without nuance, Mendoza and Garcia bring everything to the table. Even the cast and crew seem mesmerized by this Che and Julia, their raw energy, the high stakes, the emotional crests and troughs, the lengthy polemics, the rolling-on-the-floor passion, the fits of physical pain. Rivera seems to have crafted a fitting complement to his earlier screenplay (which he has said was tailored more to Salles' vision than his own).
Compared to the sweeping cinematography of the Motorcycle Diaries, in which Rivera acknowledged all of Latin America as a kind of "third character," this lonely schoolroom gives that wandering, wide-world initiation a claustrophobic closure.
SCHOOL OF THE AMERICAS, a Teatro Visíon production, plays Thursday–Saturday at 8pm and Sunday at 2pm through Feb. 10 at the Mexican Heritage Plaza Theater, 1700 Alum Rock Ave., San Jose. Tickets are $10–$24. (408.272.9926)
Send a letter to the editor about this story.