01.23.08
home | metro silicon valley index | silicon valley restaurants | review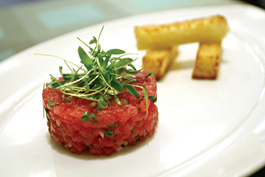 Photograph by Felipe Buitrago
A Different Tuna: The Tartare is a standout at Shokolaat.
Hot Shokolaat
Ambitious new Palo Alto restaurant delivers
By Stett Holbrook
Three-month-old Shokolaat restaurant is Palo Alto's sleeping giant. Situated at the lower end of restaurant-dense University Avenue, the restaurant is easy to miss with its small sign out front; it's set back off the street behind a 35-seat patio that is starkly empty in these chilly months of winter. Over the course of three visits, I never saw more than a handful of full tables in the small, 25-seat dining room. But I'm sure that will change. Shokolaat isn't giant in size, but the ambition and skill of the kitchen are big.
The restaurant is a partnership between husband and wife duo Shekoh Moossavi and Mark Ainsworth. The two once owned Saratoga's Restaurant Gervais and both boast impressive culinary pedigrees. Moossavi, a native of Iran, is executive chef and earned her chops at places like the Ritz Carlton in Florida and, closer to home, Acquerello, La Folie and Gary Danko in San Francisco. Ainsworth is the pastry chef and chocolatier, and he learned his skills at the Lodge in Pebble Beach and the Ritz Carlton in San Francisco.
For Skokolaat, they took over a former art gallery, transforming it into a sleek, modern space. The open kitchen and pastry display counter are as gleaming and clean as a laboratory, which would be a fitting setting for Moossavi's technically precise, modern European cooking.
Small plates really shine here and you'd be well served if you just stuck to the top of the menu. The gratin of escargot with bone marrow/mushroom/onion confit ($9) luxuriates in a silken red wine–based sauce and is a rich and satisfying dish. It is served it a little crock and I swabbed up the last drops of the sauce with great house-made bread. For lunch, the ahi niçoise salad ($16) was decent and cleverly disassembled, but the ahi tartar ($11) was the standout of the two tuna dishes. Tuna tartar is everywhere these days, but here it distinguishes itself with shaved black truffles and a perfectly balanced citrus and vanilla vinaigrette.
Another stellar seafood starter is the seared scallop appetizer ($7), three plump and wonderfully fresh sea scallops perched atop a rich leek and wild mushroom cream sauce that played off the natural sweetness of the scallops.
The French onion soup was excellent ($6), but it's the orange-scented cauliflower soup ($7) that I'm still thinking about. Puréed and enriched with cream, the soup elevates the common vegetable to new heights. Even so, it was the addition of orange blossom "caviar" that really brought the soup to life. Using a trick of molecular gastronomy, Moossavi adds sodium alginate to the orange water to create little tapiocalike pearls or "caviar" to create a little burst of flavor that sets off the soup.
Starters often outshine the entrees, but Shokolaat keeps the hits coming with the main courses. Portions are refreshingly small without being stingy. They come off as scaled-up small plates rather than overloaded main courses. Venison tenderloin ($22) arrived as a strip of wonderfully tender meat paired with a small spaetzle cake and dabs of date mousse and braised quince anointed in a silky venison sauce. Other chefs might be temped to bulk up a plate like this, but Moossavi treated the dish with subtlety and restraint. Roasted quail stuffed with brioche and foie gras and paired with a tarragon veal jus ($17) was another immensely satisfying dish that had me wanting just one more bite.
The difference between too much and too little is a fine line, and with the poached lobster and lobster ravioli ($26) the dish was a bit too spare. A tiny (but very delicious) piece of Maine lobster tail curled above four flat raviolis that were napped in a Pernod-spiked cream sauce. Other dishes, like the juicy hamburger ($16) and wild mushroom risotto from the lunch menu, strike the right balance.
Shokolaat has an impressive wine list compiled by Master Sommelier Catherine Fallis, only the fifth woman in the world to earn that title. The list includes a number of gems from France, Italy and California and a small but well-chosen selection of wines by the glass.
For dessert, there are many options, and all of them are good. You could go for the jewel-like chocolates in the display case. Ainsworth and Mossavi also own Pastry Smart, a wholesale chocolate company that makes the candies in San Mateo. The case also holds several excellent desserts, like the ethereal opera cake ($4) or Bailey's cream bombe ($5), but for me the best desserts are made in-house. I loved the caramelized hazelnut financier layer cake made with bittersweet chocolate cremeux and caramel-vanilla custard ($9). The addition of caramelized Fuji apples and spiced bread made it too busy, but the buttermilk panna cotta topped with candied ginger ice cream ($9) was great.
As word about Shokolaat spreads, those 25 seats are going to fill up fast, and once the weather turns warm the appealing patio should pack them in, too. So get there now and avoid the crowds to enjoy the biggest little restaurant in Palo Alto.
---
Shokolaat
Address: 516 University Ave., Palo Alto
Phone: 650.289.0719
Hours: Counter open 8am–9pm (to go only 4–9pm),
lunch 11:30am–2pm Tue–Sun and dinner 5:30–10:30pm Tue–Sun
Cuisine: Modern European
Price Range: Entrees $17–$29
Send a letter to the editor about this story.