01.23.08
home | metro silicon valley index | columns | live feed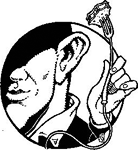 Live Feed
Cooking With T.J.'s
By Stett Holbrook
FILE this one under "I should've thought of that." Deana Gunn and Wona Miniati are longtime fans of Trader Joe's and they have come up with the first-ever Trader Joe's cookbook, Cooking With All Things Trader Joe's. Using ingredients that all come from Trader Joe's, they've created one of the few cookbooks geared toward time-starved home cooks that is actually decent. Although the book is sold at Trader Joe's, the company didn't sponsor the book.
If you're a seasoned home chef, some the recipes, like the stuffed red peppers, "blue corn taco salad olé" and cheese fondue will seem a little amateurish and geared for kitchen newbies. However if you really are a culinarily challenged, check out the "bachelor quickies" chapter, a list of ridiculously easy heat-and-eat recipes. But experienced chef or not, there's nothing wrong with a little help on those nights when you don't feel like spending a lot of time in the kitchen or shopping at several stores for your groceries.
The book also includes suggestions for pairing food with Trader Joe's famously cheap (and sometimes good) wine.
The book treats Trader Joe's as your personal prep kitchen by utilizing the store's array of prepared items, sauces and mixes to create pretty decent meals in 15 minutes or less. I cooked a couple of recipes in the book and was pleasantly surprised at how good and easy they were. I recommend the better-than-it-sounds "black bean and ricotta–stuffed portabellas" and the "peanutty sesame noodles." I love a good peanut sauce and the one in this recipe is very good.
You could just stick with frozen burritos or canned soup and call it a night. But with just a bit more work, Cooking With All Thing Trader Joe's allows you to create a decent meal in about as much time as it takes to bake a frozen pizza. There's no shame in taking a few shortcuts now and then if it means getting food on the table quicker.
Check out Cooking With All Things Trader Joe's at www.cookingwithtraderjoes.com or Borders bookstores.
Send a letter to the editor about this story.