01.23.08
home | metro silicon valley index | movies | current reviews | film review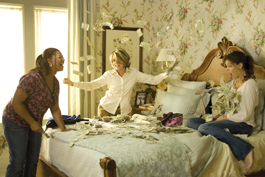 Photograph by Melissa Moseley
BILL COLLECTORS: Diane Keaton, Queen Latifah and Katie Holmes enjoy some 'Mad Money.'
Steal Magnolias
Keaton, Latifah and Holmes turn to theft as a feminist statement in 'Mad Money'
By Richard von Busack
IN KANSAS CITY, a trio of low-level female employees at the Federal Reserve Bank figure out a way to steal the used money they were supposed to be destroying. That's the one-sentence summation of Mad Money. From it, one could make a variety of crowd-pleasing movies. But director Callie Khouri, the scriptwriter of Thelma and Louise, is so certain this act of larceny is a feminist statement that she stresses that aspect over the nuts and bolts of the plot. It's as if Khouri heard that the public was so averse to stealing from the government in the new post-9/11 America that she had to reinforce motivation for the crime every five minutes. That tactic grows bizarre, even into a scene of Diane Keaton being sexually harassed by a guard one-third her age. And as the boss, the usually reliable Stephen Root is decked out in dyed beard, trumpeting his chauvinist evil in the mannerisms of Gale Gordon from the old Lucille Ball TV show.
Keaton plays Bridget Cardigan, a ditzy WASP lady of the manor, who ends up in debt when her executive husband (a snowcapped Ted Danson) is laid off. She is forced to become a janitor, which is her motivation for becoming a thief. It's another lame role for one of the freshest actresses of the 1970s. Keaton has almost nothing to work with, except for a couple of tantrums about cleaning toilets. You can tell Keaton is doing this part for Barbara Ehrenreich, but there's no serious comedy in it. Katie Holmes plays the youngest of the conspirators. In her first post-Suri role, Holmes is nigh unrecognizable. All that luscious Southern plumpness has been starved and exercised off her, and she's permed up into a Sideshow Bob–worthy mess of curls. The third part of the trio may be the most stereotypical. Nina (Queen Latifah) needs the money so she can send her two sons to private school.
In the abstract, Latifah is exactly what the movies need, a woman of bearlike physical power and remarkable curves. An actress like her could cause serious trouble onscreen. And yet—it's either directors or producers or her own choice—Latifah keeps returning to these "empowering" roles (i.e. boring, man-disliking paragons who don't dress very well). We are always told that Latifah is hot—in movies, men dog her like crazy—but they don't show us why. When she exposes a pinch of cleavage, the boys are supposed to topple over like stroke victims. It's the effect of a slightly low-cut top that is meant to help paralyze a security guard (Roger Cross) who gets impressed into the thefts; he cooperates, but he refuses to be seduced, though, because of his morals and his poor old mother.
Mad Money is a tentative caper tale, and the various shifts of perspective make it seem as if the movie were stopping to take the audience's temperature. There are moments—particularly during the various endings of the film—that almost seem like focus-group consensus on how far it can go. Happy ending? Sad ending? In-between? Reviewing a film like this has been called "killing the wounded," but in this case it's more like euthanizing a botched suicide.

MAD MONEY (PG-13; 104 min.), directed by Callie Khouri, written by Glenn Gers, et al., photographed by John Bailey and starring Diane Keaton, Queen Latifah and Katie Holmes, plays valleywide.
Send a letter to the editor about this story.