01.23.08
home | metro silicon valley index | music & nightlife | band review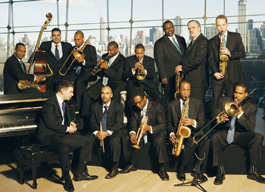 Horns A-Plenty: The Jazz at Lincoln Center Orchestra, led by the great Wynton Marsalis (not pictured)
Lincoln Brigade
Wynton Marsalis and his Jazz at Lincoln Center Orchestra strive to liberate listeners from the tyranny of pop
By Andrew Gilbert
IN THE world according to Wynton Marsalis, dancing is far more than a recreational pursuit. For the jazz trumpeter, Pulitzer Prize–winning composer, artistic director of the Jazz at Lincoln Center Orchestra and famously outspoken raconteur, the terpsichorean impulse is a social indicator, a cultural thermometer measuring the health of American society.
"The descent of music has gone right along with the descent of our ability to relate to each other as men and women, but we're not going to stay down in this low ebb forever," says Marsalis, 46, who leads his swaggering JLCO at the Santa Cruz Civic on Thursday in a concert presented by Kuumbwa Jazz Center.
"A lot of things have been gained through the decadence, a certain freedom of sexuality that was restricted before," the trumpeter continues, his voice still carrying the soft, sing-song cadence of his New Orleans upbringing. "Once we take away that element of violence and exploitation and the feeling that we're doing something wrong, once all those things get filtered out, then we have a chance for an even greater dance music."
The JLCO Santa Cruz date is one of a half-dozen Northern California performances on a 22-city tour billed as "Ellington Love Songs." Besides showcasing the well-oiled big band and a host of newly commissioned charts by band members, Marsalis hopes to offer adults a sophisticated alternative to the explicit pandering of pop culture. "I feel that in the U.S. we have so many adults who really want to participate in something that they don't have to be insulted by," Marsalis says.
Never one to mince words, Marsalis has been something of a cultural crusader since the mid-'80s, when he got in a bitter war of words with Miles Davis over the direction of the legendary trumpeter's music. He still elicits sharply divided reactions among critics and fellow musicians. Many players who reject his constricted view of the jazz canon, a historical perspective that elides the 1960s avant-garde and '70s electric experiments, still support his activities at Lincoln Center. But there's no denying that Marsalis has built a formidable bully pulpit from which to trumpet his views.
Under his leadership, Jazz at Lincoln Center has grown from a summer concert series into the largest and most visible jazz presenter in the world. Marsalis is the head of an empire encompassing a world-class concert hall and swanky nightclub, lectures, film programs, master classes, educational workshops, recordings, publications, television broadcasts, a Peabody Award–winning weekly radio program, an annual high school jazz band competition and festival and a band director academy.
In the midst of all this activity, [email protected]'s most visible program is still the orchestra, which features some of the best mainstream players in the business. Built upon a superb rhythm section of pianist Dan Nimmer, bassist Carlos Henriquez and drummer Ali Jackson, the 15-piece band includes a superlative trumpet section with Sean Jones, Ryan Kisor and Marcus Printup, and a reed section bristling with multi-instrumentalists such as Walter Blanding, Victor Goines, Ted Nash and Joe Temperley.
For Marsalis, the orchestra isn't just a fine-honed musical organization. It's a quintessential expression of democracy and a force for cultural renewal that cuts against the commercial values reflected in so much popular culture.
"We always have to remember there's one big battle that goes on in America that affects everything, and that's the battle between democracy and capitalism," Marsalis says. "In our culture right now, capitalism is reigning high over democracy, so we exploit our own kids. We put out the biggest pile of bullshit for our children to consume. But there's going to be some point where democracy starts to rebound."
The JAZZ AT LINCOLN CENTER ORCHESTRA WITH WYNTON MARSALIS performs on Sunday (Jan. 27) at 2:30pm at Stanford Memorial Auditorium. Tickets are $21–$76. (650.725.2787)
Send a letter to the editor about this story.