01.23.08
home | metro silicon valley index | the arts | stage | review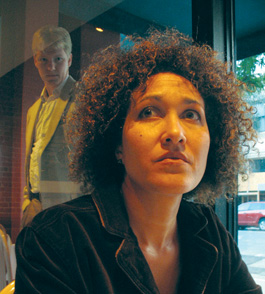 Photograph by Kit Wilder
BAD DATE: Tony (Jeff Clarke) takes an unhealthy interest in Theresa (ej Taylor) in 'Boy Gets Girl' at City Lights.
Dark Stalkings
A woman copes with a threatening encounter in City Lights' issue play 'Boy Gets Girl'
By Marianne Messina
AS STALKER stories go, City Lights Theater Company has turned Rebecca Gilman's Boy Gets Girl into a tense mix of humor, suspense and creepiness. After a somewhat comical blind date in which career-centric Theresa (ej Taylor) and fresh-from–Terre Haute Tony (Jeff Clarke) cobble some sorry banter out of ad tag lines, Tony the software tech turns sinister. The play shifts to Theresa's home and work as a magazine writer. In Ron Gasparinetti's scenic design, Theresa's office desk and her living-room couch look out from their respective stage zones like two eyes. The bookish Theresa lives in her head, and the play replicates this solipsism to the degree that other characters exist mainly to reveal things about her. Theresa's well-intentioned subordinate writer Mercer Stevens (Jason Arias) could use some encouragement, and Les Kennkat (James G. Mantell), the porn producer she's sent to interview, could use some journalistic curiosity. But partly due to Tony's looming phone calls and partly due to Taylor's artful, subdued performance, the focus remains on how Theresa handles the people in her life.
Taylor's appealing Theresa is not so much aloof as inaccessible, maintaining a distracted air that draws us in, like a study in character flaws, until we find ourselves complicit in the fallacy that Gilman wants to subvert. Theresa puts it in the form of a question to police officer Madeleine Beck (Rachel Bakker): What is it about me that attracted this stalker mess? Officer Beck gives familiar and not too helpful answers in a woman-bonding scene that's more agenda than substance. Furthermore, Beck goes all giggly in this heart-to-heart—baffling, but refreshingly not what you'd expect from a former rape-crisis worker.
More satisfying answers to Theresa's questions might be found at the nonprofit this show's proceeds support, Kidpower.org, which sponsors workshops on ways to deter violence. (Generally, each City Lights production benefits a related charity in some way). Like many issue plays, Boy Gets Girl is weakest when trying to say something. Various feminist discussions (e.g., "No means no") feel stale, including the way Theresa's melt-down causes the men around her to question how they view women. (Haven't we returned to T&A-as-usual? Maybe not—you can't get any less risqué than Tom Petty playing the Superbowl.)
Fortunately, without overdramatizing, director Ross Nelson milks the laughs and shudders from Gilman's script, assisted by an excellent cast. We can sympathize with Arias' struggling Mercer. We can fault, feel for and laugh at Theresa's secretary Harriet; Melissa Quine does a lot with this blonde bimbo stereotype (a City Lights staple it seems—what's that all about?) Jeff Clarke modulates goofy and solicitousness while still giving us something that hindsight can flip. Some of the most refreshing exchanges happen between Theresa and the porn producer. Mantell's gleeful, careful speech and his fond enunciation of the word "breasts" make Kennkat a delightful "doorway" figure—i.e., Theresa's glimpse into a new outlook (no Paglia-esque comment about this only man to get through to Theresa being surgically emasculated). With just the right visuals, the production delivers fascinating menace and ultimately equates stalking and annihilation in a stark way.
BOY GETS GIRL, a City Lights Theater Company production, plays Thursday–Saturday at 8pm, Sunday at 2pm (Feb. 10 and 17) and 7pm (Jan. 27 and Feb. 3) at City Lights, 529 S. Second St., San Jose. Tickets are $25–$40.
Send a letter to the editor about this story.