January 24-30, 2007
home | the papers | metro silicon valley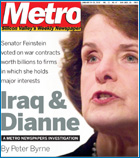 Dianne Feinstein: A Question of Ethics
Senator Feinstein influenced defense projects worth billions to her husband's firms. Peter Byrne delivers an exclusive report.

History in the making
With the passing of another of San Jose's historian icons, someone's got to save the South Bay's institutional memory.
The Fly: 01.24.07
Montecito Vista Park's real name should be No Baño Park.

Silicon Alleys: Roberto Tinoco Duran
Alleys decided to hook up with one of San Jose's own favorite local Goliardesque poets.
Technology news: 'His Dark Materials'
Annalee Newitz reads Philip Pullman's adult fantasy trilogy and wonders why everybody thinks it is anti-religion.
Sports news: Jerry Rice
The wide receiver-turned-'Dancing With the Stars' finalist has got the moves.
Style: Exercising
One of the best aspects of the new year is that we get to move away from the people we have been and toward the people we want to be. One of the best ways to achieve this is to exercise.

'El Automóvil Gris'
Mexican silent film classic returns, complete with music, narration, live actors.
'70s-style horror films
Bay Area horror filmmakers are part of a new generation looking to grimy, gory '70s.
Movie review: 'Venus'
Peter O'Toole's old goat falls for a young kid.
Film festival preview: Noir City 5
Stool pigeons and gutter rats scuttle through noir festival in San Francisco.
This week's revivals
Dance dance revolution: Gene Kelly movies at the Stanford.

MORE MOVIE REVIEWS

MOVIE TIMES

Deerhoof
Drummer Greg Saunier talks about the nature of gradual fame and the release of their new album, 'Friend Opportunity.'
Smoke Tiki Lounge, the Blank Club and the Caravan
Taste a live music club sampler.
Symphony Silicon Valley
Joseph Silverstein's stint was long on good feelings but short on new ideas.
Musicbox
Our critics pick this week's highlights: Dar Williams and Santa Cruz County Symphony.

MORE MUSIC AND NIGHTLIFE

MUSIC AND CLUBS LISTINGS

MUSIC AND NIGHTLIFE CALENDAR PICKS

Restaurant review: Olio
One of the smartest new restaurants in an increasingly hip Campbell.
Live Feed
An upcoming Mexican food festival at the Fairmont promises to go beyond tacos and tamales.
5 Things to Love: Warming foods
Try a little Chinese wisdom to warm you up.

BOOK A RESTAURANT RESERVATION

FIND A RESTAURANT REVIEW

Stage review: 'A Doll's House'
Ibsen's play moves to the '50s for Pear Avenue production.
Stage review: 'Ambition Facing West'
TheatreWorks jumps time and space.
Stage review: 'Artemisia'
Dell'Arte Company paints a compelling portrait.
Book review: 'House of Meetings'
Book authored by Martin Amis.
Book review: 'Destination Art'
Book edited by Amy Dempsey.

Letters to the Editor
January 24-30, 2007.