January 25-31, 2006
home | metro silicon valley index | the arts | stage | review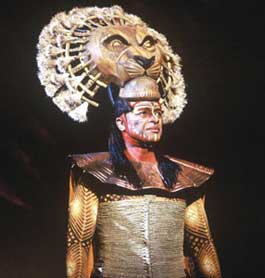 Photograph by Joan Marcus, © Disney
Regal Bearing: Rufus Bonds Jr. stars as Mufasa in 'The Lion King.'
'Lion' Pride
Traveling version of Disney's 'Lion King' dazzles with costumes and handmade magic
By Rob Pratt
IT'S A FUNNY THING about cats and Broadway. Andrew Lloyd Webber earned Tonys with the household variety in 1983. His Cats ran 18 years and smashed all previous attendance records to become the longest-running show ever on Broadway (only exceeded this month by The Phantom of the Opera). In 1998, Disney revamped the famed New Amsterdam Theater in Times Square to present a pride of regal African felines on Broadway in The Lion King. With eye-popping visuals and the kind of simplified, lightly humorous plot that has been Disney's stock-in-trade for decades, The Lion King regularly sells out the house on Broadway, annually leads the pack in gross sales and shows every sign of scratching its way to the front ranks of Broadway's blockbusters.
The touring production, which takes up residence in San Jose through Feb. 26 on behalf of the American Musical Theatre of San Jose, likewise evokes a sensation. An opening night throng took seats in the Center for the Performing Arts abuzz with anticipation. At the close of Act 2, the crowd leapt to its feet with enthusiasm as the cast took a bow. Even in a staging slimmed down to fit a fleet of buses and trucks, The Lion King presents an overwhelming spectacle.
Computer-designed and computer-controlled, The Lion King is paradoxically a triumph of old-school craftsmanship, a show that cunningly employs theatrical illusion to great effect. There are no explosions, no software-enhanced herds of animals crossing computer-graphic savannahs. Director Julie Taymor's digital magic is the handmade kind: magnificent costumes (which Taymor designed), beautiful lighting, elegant sets and excellent choreography.
The eyes have much to feast upon, but the ears leave the theater a little hungry. Traditional choral numbers in African dialect written by Lebo M are glorious. Music by pop superstar Elton John and movie music composer Hans Zimmer makes good use of African chants, exotic flutes and hand drums. Though the songs generally support the show's sketch of a plot, they're woefully undistinguished. Much of the music could just as easily provide a comfortable backdrop for television commercials produced to showcase the environmental efforts of a petrochemical conglomerate with a public relations problem. Tim Rice's lyrics are similarly bland, only rarely perked up by piquant wordplay that is the lifeblood of theater.
Still, the first-rate cast delivers such uneven material with consistent verve and grace. The leading lions must eat raw meat for every meal to ooze such an overabundance of gravitas. Rufus Bonds Jr. as the good king Mufasa, Larry Yando as evil king Scar and Wallace Smith as Simba, exiled heir to Mufasa's kingdom of Pride Rock, command the stage whenever they appear. Gugwana Dlamini as the griot-trickster Rafiki, who sets the scene at the opening of the show and periodically appears as narrator, plays each of her scenes with an infectious joy. Also delightful are Derek Hasenstab, Damian Baldet and Phil Fiorini as comic characters and lion king counselors.
The Lion King, presented by American Musical Theatre of San Jose, plays Tuesday-Friday at 8pm, Saturday at 2 and 8pm and Sunday at 1 and 6:30pm through Feb. 26 at the San Jose Center for the Performing Arts, 255 Almaden Blvd., San Jose. Tickets are $51-$128. (888.455.7469)
Send a letter to the editor about this story.