January 25-31, 2006
home | metro silicon valley index | movies | current reviews | film review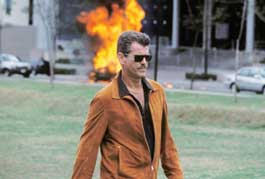 Bond Unbound: Pierce Brosnan plays a sleazy hit man in 'The Matador.'
The Big Skeeve
From 007 to assassin, Pierce Brosnan remakes his man-of-mystery persona in 'The Matador'
By Richard von Busack
ONE COULD SIT through Munich to learn that the taking of lives is a terrible thing to have on the old conscience (nagging little spoilsport that it is). Or one could go see The Matador, a raunchy comedy with Pierce Brosnan savoring his own rottenness and Greg Kinnear unexpectedly pleasurable as a man who learns to have some fun out of life by taking lives. The wacky hit-man movie is generally as awful as a race-car drama. Still, writer/ director Richard Shepard has such dirty fun with the premise that The Matador is almost self-cleaning. Shepard doesn't subscribe to the idea of the sneak killer as a noble samurai. The sum of his anti-hero's spiritual qualities can be seen when Brosnan's character crosses a fancy Mexican hotel lobby in his black underwear, beer can in hand, as the Cramps' "Garbage Man" plays on the soundtrack.
Killer Julian Noble (Brosnan) is drinking in a Mexican hotel when he runs into the American salesman Danny Wright (Kinnear), a melancholy man who has a tricky and important deal that's just about ready to slip away. Julian and Danny end up spending a night boozing. Later, Danny accompanies the lonely Julian for a few days of examples of on-the-job assassin training. The story lapses into six months later in the suburban snows of Denver, when Julian is on the run without many options left.
The "palm trees to pine trees" motif is a natural in spy movies. Shepard supplements it with a palette of tropical colors as lurid as those in an Almodóvar movie: the shocking pinks of a matador's suit of lights, the sheen of jockeys' racing silks, the yellows of bottles of Corona. The movie is insouciant enough to include a clip of Xavier Cugat's talking Chihuahua in some ancient Goldwyn musical; the candy colors reflect the easy morality of a movie in which bad people die painlessly, off-camera.
Brosnan is best in two roles: Bond and anti-Bond. Here, as in The Tailor of Panama, he's an anti-Bond, a suave but crooked slouch. When Danny asks Julian if he is a government hit man, the question is an affront: "Do you know how much they pay?" He prefers "corporate gigs." It seems a pity that Brosnan has been replaced in the 007 series; he looks tanned, fit and affably hedonistic. Kinnear has never seemed anything but a beige nouveau Bob Cummings; surprisingly, he rises to the occasion. He plays the cards that nice guys must—the ones marked "Endurance" and "Kindness." And he has an odd wife who loves both him: Bean (Hope Davis). In turn, one loves Bean when she reminisces that in the schoolyard she was called "Hippo Hips." She warms to Julian, too: "For an assassin, he's very nice." Despite this niceness, The Matador is probably not for the sensitive, who would be grossed out by Julian's awful tongue and worse deeds. But this entertainment is like Roald Dahl's novels for adults (some of us outgrew that chocolate factory). The film proves a comment by another author, Joseph Roth, who wrote that there may not be any such thing as love at first sight, except between middle-aged men.

The Matador (R; 96 min.), directed and written by Richard Shepard, photographed by David Tattersall and starring Pierce Brosnan, Greg Kinnear and Hope Davis, opens Friday at Camera 12 in San Jose.
Send a letter to the editor about this story.