01.28.09
home | metro silicon valley index | columns | silicon alleys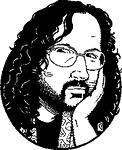 Silicon Alleys
Count Five Avenue
By Gary Singh
LAST MONTH saw the passing of John Byrne, lead singer of the '60s San Jose garage-rock band Count Five. He penned the immortal fuzzed-out 1966 hit Psychotic Reaction, which peaked at No. 5 on the Billboard charts and was listed in the Rock and Roll Hall of Fame's Top 500 songs that shaped rock & roll. A whole two years before Dionne Warwick sang that tune we all despise, the Count Five staged its famous promo picture, wearing Dracula-style capes in front of the Winchester Mystery House. Even though the band still commands an ample following among '60s garage-rock junkies all over the world, Count Five occupies an oddly secret slice of San Jose history. Byrne, originally from Dublin, Ireland, lived here for decades, but many locals have never even heard of the band.
Such were my thoughts when I wrote a Dec. 12, 2007, column titled "Meet Me at Count Five Place," suggesting that the city of San Jose name a street after the band. Aside from the fact that San Jose and Dublin are already sister cities, other locales have done similar things. For example, the legendary Oklahoma City band the Flaming Lips has been known for its surreal rock madness for more than 20 years now, so the city—apropos of the band's career—took an indistinguishable side street behind some clubs and renamed it Flaming Lips Alley. The band's singer, Wayne Coyne, who still lives in that city, dug the idea, actually preferring a back alley over a main street. "Any time you've got an alley with dumpsters and trucks loading beer out of the back, I thought, maybe that's a little better," he said. "I like to think that, in fact I almost prefer that we're one of these great little secrets—that people sort of stumble upon us—while looking for something more obvious."
Exactly. That would probably be the case for "Count Five Place" as well. But this is not a matter of being "secret" just to be secret. Renaming a street can be difficult due to the red tape involved. A lot of people have to be in the loop—the nearby residents, the postal service, the historians, the folks who make the maps, plus God knows how many layers of city bureaucracy. It's much easier to either create a new street and then name it, or just find an inconspicuous nonresidential road with a previous name that nobody would miss.
One such street in particular comes to mind, as suggested by the Blank Club, a live-music nightspot that sits on an older stretch of Almaden Avenue in downtown San Jose. You see, in this horribly planned city, there currently exists an Almaden Expressway, an Almaden Road, an Almaden Boulevard and an Almaden Avenue—a confusing mess that bugs the hell out of nonnatives looking for anything on one of those streets.
The parallel streets of Almaden Avenue and Vine run north and south, branching off from where Almaden Expressway ends at Alma. Before Park Center Plaza, the Center for the Performing Arts, the old library and the convention center all went in, those streets ran all the way north to Santa Clara Street and beyond. After the developments went in, Vine Avenue from 280 to Santa Clara Street was eventually widened and renamed Almaden Boulevard.
The Blank Club is located on one of the remaining stretches original Almaden Avenue just south of Santa Clara Street, the same side-street home to the Greyhound Bus Station and a popular dive bar called the Caravan, which also features rock bands three nights a week. Newcomers constantly get confused over the different Almaden streets, and since that entire two-block stretch has an edgy, back-alley punk-music kind of feel to it, I don't think anyone would complain if it was rechristened Count Five Avenue. I can't think of any better way to foster the San Jose/Dublin sister city relationship than to rename Almaden Avenue south of Santa Clara Street. No one lives there. No one would care. Let's do it.
Contact Gary Singh or send a letter to the editor about this story.