01.28.09
home | metro silicon valley index | the arts | stage | review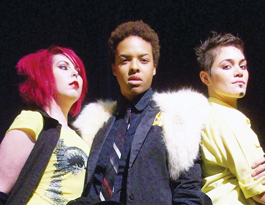 Photograph by Cameron Fabrick
DROOG RACERS: Morgan Voellger (left), ZZ Moor and Alika U. Spencer are into ultraviolence in RTE's 'A Clockwork Orange.'
Reeling Onstage
PA Players' 'Virginia Woolf?' and RTE's 'A Clockwork Orange' offer new takes on famous films
By Steve Palopoli
NEITHER Who's Afraid of Virginia Woolf? nor A Clockwork Orange was written for the big screen. And yet, in both cases, the film versions became so popular that they have overshadowed the source material, to the point that most people don't realize that director Mike Nichols' Woolf is at best a superficial interpretation of the original Edward Albee play. But hey, at least they know it was a play. Not so lucky was Anthony Burgess, whose novel A Clockwork Orange goes almost entirely unread today, while Stanley Kubrick's movie based on it is one of the most famously controversial films of all time. As if that wasn't bad enough for Burgess, he hated it.
The filmed visions for both works are only one way to look at them, as proven by two new productions, the Palo Alto Players' staging of Who's Afraid of Virginia Woolf? and Renegade Theatre Experiment's A Clockwork Orange. Both offer interpretations that veer sharply from the films.
Who's Afraid of Virginia Woolf? is the kind of production that reminds the audience just what a brilliant piece of theater Albee crafted. While the groundbreaking 1966 film is still a rush, with great performances from Elizabeth Taylor and Richard Burton, it is almost too flashy for its own good. My first time seeing the play performed onstage was a revelation; it can be far more nuanced and genuinely moving than the movie suggests. In fact, it can be one of the best performance pieces in the modern repertoire—given, of course, that the leads are exceptional actors.
In the PA Players production, Kevin Kirby as George and Diane Tasca as Martha prove to be just that. What's more, they take the characters in a much different direction from what those who've only seen the movie will have seen. This is the sort of play that doesn't offer much variation in its staging; it's always going to be four characters playing emotional games in a single living room. So kudos must go to the actors and to Marilyn Langbehn, directing her first PAP production, for innovating daringly with the characters.
Generally, the bickering George and Martha are portrayed much as they are in the film—essentially, special people who are rotting in their inability to cope. Taylor and Burton took this template to the nth degree, as they were themselves superstars who don't let a minute of the film go by in which they don't act like it.
Kirby and Tasca flip the dynamic, playing the couple as ordinary people who are desperately trying to hold on to any feeling of specialness. Kirby forsakes the predatory, uppity edge that actors often use for George and gives him a touch of the Everyman. His George is rumpled and genuinely lost. He seems more like a tech-campus burnout than a university professor, and Tasca's Martha is more like a suburban cougar than a social climber. It's a refreshing perspective on a truly classic play.
Sadly, A Clockwork Orange is not a classic play. It was written by Burgess himself as a semimusical after his torture at the hands of U.S. editors, who chopped the last chapter of the book, and a director whose vision he did not endorse. He apparently snapped, because the stage version of A Clockwork Orange alternates between pointless and heavy-handed, with various characters carefully laying out the message in no uncertain terms throughout.
Director Megan Murphy does try some interesting things with the approach. For one, she has women playing the violent gang of "droogs," including the talented and charismatic ZZ Moor as Alex. Unfortunately, the interesting issues raised by this genderbending are somewhat muted by the fact that the characters are played as men. A single character does refer to Alex as "she" and "daughter" later in the play, but because everyone else refers to Alex as a boy, this seems more confusing than daring. However, none of this stops the beginning from playing like A Clockwork Orange meets Faster, Pussycat! Kill! Kill! , which isn't a bad thing. RTE deserves nothing but credit for continuing to take chances on such casting and material, but this is one time when it simply doesn't come together.
 WHO'S AFRAID OF VIRGINIA WOOLF? Plays through Feb. 8 at the Lucie Stern Theatre, 1305 Middlefield Road, Palo Alto. (650.329.0891)
A CLOCKWORK ORANGE plays through Feb. 7 at the Historic Hoover Theater, 1635 Park Ave., San Jose. (408.351.4440)
Send a letter to the editor about this story.