01.28.09
home | metro silicon valley index | silicon valley restaurants | review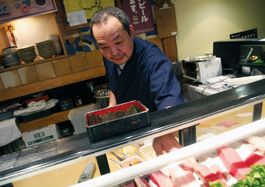 Photograph by Felipe Buitrago
HANDS-ON: Owner and chef Chiba prepares sushi at Izakaya.
Izakaya Nighthawks
The San Jose Japanese restaurant whips up neon visions and some top-notch grilled treats
By Stett Holbrook
NIGHT FALLS on rain-slickened streets. A patrol car creeps down North First Street as traffic hurtles overhead on 880 in a blur of red and white lights. Packing a notebook and ballpoint pen under my black coat, I part the curtains and push open the flimsy rice paper screen door and walk into Izakaya Restaurant.
I take in the tiny dining room in a glance: Hand-lettered kanji signs detailing the restaurant's vast menu paper the wall. The grim-faced chef behind the counter catches my eye with a flicker of recognition and returns to his knife work. A well-dressed man and his knockout date huddle tight and close in on another slice of sashimi.
Nearby, a lone diner slurps up a bowl of udon, lost in thought and the warmth of his soup. A foursome of post-work revelers orders another round of drinks and food. I take a seat facing the door and wait for the harried waitress. I catch a snippet of conversation between a man in a rumpled trench coach and another with a hard look in his eyes.
"They don't advertise for killers in the newspaper," says the tough guy. "That was my profession. Ex-cop. Ex-blade runner. Ex-killer."
OK, I made that last bit up. But something about the urban scene outside and the intimate buzz inside reminded me of the sushi bar scene in Blade Runner. At night, Izakaya Restaurant in San Jose feels like it could be somewhere else—a Tokyo alley or maybe an L.A. side street buzzing with neon.
Finding Izakaya Restaurant was a bit confusing for me because it shares an entrance with Genji, another Japanese restaurant. As you enter the door, hang a left and walk up the narrow passageway. The restaurant offers a bit of everything, sushi, noodles, rice plates, grilled items, but it's the izakaya menu that brought me in. Izakayas are Japanese tapas bars, pubs that specialize in grilled and fried food designed to go with beer and sake. The quality and quantity of Silicon Valley's izakaya is the best in the Bay Area.
There's a lot to recommend. Grilled beef tongue ($7.75) is one of my favorite izakaya items, and here it's sliced thin and wonderfully tender. If you didn't know it was tongue, you would just think it was a slice of tender beef, so don't be squeamish. As an added bonus, it's served with shredded cabbage and a squirt bottle of a delicious carrot dressing. Buta shioyaki ($7.75) is another izakaya classic—grilled and sliced pork belly. If you're a bacon lover, this is for you, since pork belly is just uncured bacon. With a squeeze of lemon, it's great. Although it's a bit salty, I still loved the kamo garlic ($8.25), sautéed and sliced duck breast ladled with garlic sauce.
From the fried department, check out the agedashi takoyaki ($4.25), five potato croquettes filled with octopus and topped with a syrupy soy sauce and a dusting of bonito flakes.
The special izakaya menu is quite extensive and the rest of the menu is a veritable encyclopedia of Japanese food. I barely dented it, but I did find a couple of winners, like the asari (clam) soup ($4.25), and gindara kasuzuke ($7.25), marinated and grilled seabass that's at once tangy and buttery rich.
I went a little heavy on the salty, grilled meats and worked up quite a thirst. Fortunately, there's plenty of top-shelf sake and beer to solve that problem. Izakaya Restaurant is one of the few places I've found that serves delicious (and pricey) Yebisu beer. I've paid $12 for a sixer before. A 12-ounce bottle here will set you back $5.75. Next time, I would balance things out with a few vegetable- or rice-based dishes. The last dish I ordered at dinner was just the tonic I needed—tamago zosui ($7.25), a brothy rice porridge made with spinach and lacey eggs.
 By day, the restaurant doesn't have quite the same level of Blade Runner cool, but the food is no less good, although the izakaya menu isn't available. The asari ramen is ($12.75) is made with Manila clams in a rich, butter-based broth. It's served in an iron pot and it's great. Good, too, is the tako-su ($7.75): vinegar marinated octopus.
I doubt Deckard the blade runner and closeted replicant would be caught ordering mochi ice cream ($3.75), but I'm human and I liked the frozen, chewy dessert.
---
Izakaya Restaurant
Address: 1335 N. First St., San Jose.
Phone: 408.452.8751.
Hours: 11:30am–2pm and 5–10pm Mon–Fri; 5–9pm Sat–Sun.
Cuisine: Japanese.
Price Range: Most dishes $5–$10.
Send a letter to the editor about this story.