01.28.09
home | metro silicon valley index | movies | current reviews | dvd review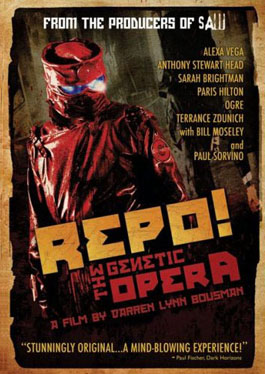 Repo! The Genetic Opera
One disc; Lionsgate; $19.98
Reviewed by Steve Palopoli
Director Darren Lynn Bousman turned down a profitable future of endless Saw sequels to make this much more interesting film version of the stage play by Darren Smith and Terrance Zdunich. Something like an emo cross between Rocky Horror Picture Show, Blade Runner and The Crow, Repo has a great look that acknowledges something we all know but rarely discuss: film is so postmodern now that it's no longer necessary to explain why a film combines futurism, goth, comic books, vintage formalwear. Bousman throws everything into the mix, and it's a visual tour-de-force. Unfortunately, the opera itself isn't too impressive. The story about a bleak future where failure to pay for one's organ transplants results in repossession is grabbing, but overall the music and lyrics are weak. Even Jello Biafra wouldn't attempt a line like "industrialization has crippled the globe," and there are plenty of them. Most of the songs sound like active-rock dumbing-down of rock opera, although there is one good up-tempo one about being 17. It has the raw energy and feeling the rest of the music is lacking. But of course many people will only want to know one thing: yeah, Paris Hilton is actually pretty good. Also stars Anthony Head (from Buffy, who really can sing) and Paul Sorvino (who really can't sing). Sarah Brightman also turns up. The extras includes lots of enthusiastic interviewers with the creators.
Click Here to Talk About Movies at Metro's New Blog
Send a letter to the editor about this story.