01.28.09
home | metro silicon valley index | movies | current reviews | film review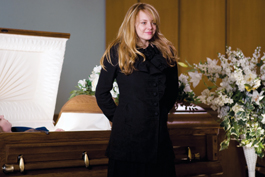 MARQUEE NAME:Bijou Phillips plays a girl who improves her social life in 'Wake,' the opening-night film at Cinequest.
The A-Z List
This year's Cinequest Film Festival offers 72 premieres and 'Intolerance'
By Richard von Busack
THE PRICE of hamburger phones is now hovering around $13 on eBay, which may mean that Juno's cultural moment is fleeting. Still, Oscar-winning scriptwriter Diablo Cody is hard at work on TV's United States of Tara and the upcoming Jennifer's Body.
Cody is the first scheduled guest for this year's Cinequest Film Festival, running Feb. 25–March 8. The 19th edition of the festival arrives in a San Jose that looks a little depressed compared to last year. Founder Halfdan Hussey stresses his hopes that the annual event will be "transformative." "Even though the world has changed, and the economy is a leaking ship, our sponsors are still with us," Hussey says.
This year, Cinequest has divided its offerings into six different "moods": Inspiration, Innovation, Provocation, Celebration, Humor and Love. The idea is that film watchers may never have heard of the cast or the director but they will still have an idea of how they'll feel when it's over.
This year's Cinequest includes 72 films making either their world or North American debuts, in addition to the usual array of celebrities to be revealed between now and opening night. Some of the unconfirmed possibles to look for include Marcia Gay Harden, who stars in the drama Home, about breast cancer. Previous Maverick Spirit Award winner Gabriel Byrne may be in town with his new autobiographical documentary. And Blanchard Ryan, star of the small-camera thriller Open Water, who is in a heist comedy called Capers, which contrasts, in three separate filmmaking styles, a group of robbers who accidentally turn up at the same place at the same time.
Big-name talent appears in some of the other indies. Control yourselves, middle-school students: Oliver Irving's film How to Be stars Robert Pattinson, last seen looking like he wanted to bite Kristen Stewart ever so softly in Twilight. Frank Langella and Elliot Gould co-star in The Caller, and Tom Sizemore shows up as a retired button man in The Last Lullaby, co-scripted by Max Allan Collins.
The opening-night film, Wake, stars Bijou Phillips, who will also be visiting the festival. The film boasts a great high concept: you loved The Wedding Crashers, now see The Funeral Crasher. Phillips stars as a girl at loose ends who decides to cheer herself up by hanging out with the bereaved. Even if local nightlife has had its funereal side since the economy started coughing up blood, this night's celebrating will take place in the patio between Mezcal and Billy Berk's, with music by Orchestra del Sol. 
Local films include All About Dad, local auteur Mark Tran's feature debut comedy about generational strife in the Vietnamese community; it was screened as a work in progress at Cinequest 2008. The documentary Witch Hunt concerns the plight of Bakersfield locals jailed for child molestation by their own children; Sean Penn produced.
Also coming is Alejandro Adams' Canary, his speculative-fiction follow-up to Around the Bay. The documentary Salute recalls a famous moment at the 1968 Olympics in Mexico City. Tommie Smith and John Carlos are the kind of heroes they erect statues to, as has been done at San Jose State University. But who remembers the third athlete, Peter Norman, the Australian who joined in? The answer: the film's director Matt Norman, Peter's nephew.
Fallen Angel: Larry Norman by David Di Sabatino concerns the troubled life of the pioneer of Jesus-freak rocker, whose 1972 album Only Visiting This Planet was produced by Fifth Beatle George Martin. Long-memoried locals might recall Norman's more secular, San Jose–based band People!, which made it to the Billboard charts with a cover of the Zombies "I Love You."
Roger Nygard's Jim Carrey–starring High Strung played very early on in Cinequest's history. Nygard's newest is The Nature of Existence, a documentary: "All things in the universe explained ... sort of" is the tagline. Of the many other documentaries, one that sounds especially promising is Johnny Cash at Folsom Prison. "This isn't a film about the making of the show," Hussey says, "it's about the effect Cash's music had on the prisoners who were there."
Regular Cinequesters have noticed how each year some country has provided a larger crop of films. This year, it's Russia, with five movies. These include a modern-dress adaptation of Chekhov's The Bet. Seven Latin American films are on tap. Costa Rica's entry is a road movie called El Camino. The U.S./Nicaraguan co-production Day of Light highlights the plight of professional scavengers. When My Time Comes from Ecuador starts where so many stories end: in the local morgue. Famed Indian actress Nandita Das makes her directorial debut with Firaaq, concerning the religious violence in Gujarat. Programmer director Mike Rabehl mentions two of his favorites, the quirky comedy Billy Was a Deaf Kid as well as the Canadian drama Necessities of Life.
All told, Cinequest's focus this year looks back to the dawn of the feature film, with revivals of Griffith's Intolerance and Birth of a Nation at the California Theatre. Five Innovation forums will be held. Previous editions of the festival predicted the rise of online distribution and small-camera filmmaking. This year, there will be a presentation on the technology of downloading film from the Internet to a user's TV set. As always, Cinequest hopes to combine the ineffability of art with the practical side of things: "More importantly," Hussey says, "it's not going to be just about getting the art out, it's also about getting money for the artist."
  CINEQUEST takes place Feb. 25–March 8 in San Jose. See www.cinequest.org for details, and look for more Metro coverage of this year's movies and events.
Click Here to Talk About Movies at Metro's New Blog
Send a letter to the editor about this story.