01.28.09
home | metro silicon valley index | movies | current reviews | film review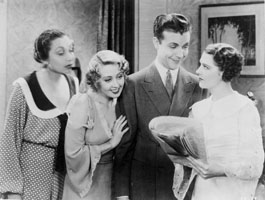 Photogrph by Jerome Prebois
BLONDELL AMBITION: Dick Powell, Joan Blondell (center) and Ruby Keeler (right) star in 'Gold Diggers of 1933.'
Depression Fun
The Stanford Theatre and Niles Museum salute the naughty films of the early 1930s
By Richard von Busack
THE LAST TIME things were this horribly bad, the movies offered us lingerie-clad babes adorned as if they had rolled in a cash register. This time around, we get Zack Ephron, hardly a substitute. The low-budget, sexy and slightly grimy Warner Bros. musicals of the 1930s are oddly attuned to our times. Made before the strict imposition of the puritanical Production Code, these wild films are best exemplified by Gold Diggers of 1933, which plays Jan. 31–Feb. 2 at Palo Alto's Stanford Theatre. Made in a similar era of layoffs, shuttered factories and burgeoning hope, this musical is, naturally, about the class struggle. The story concerns the courtship between rich, blueblood Dick Powell and working (chorus) girl Ruby Keeler; meanwhile, wiser and older Warren Williams and Joan Blondell come to a discreet understanding of their own. As always, Guy Kibbee—the actor was the direct inspiration for Elmer Fudd—provides the comic relief as a nooky-struck plutocrat first recoiling from the world of show business, then submitting to its falsely smiling, overperfumed embrace. Blondell, dubbed by Marian Anderson, performs "Remember My Forgotten Man"—as fine a piece of fake Brecht as ever heard, addressed to the unemployed vets of World War I. But Brecht never imagined Ginger Rogers in a gold-coin-covered bikini singing "We're in the Money" in pig Latin. And no one, except choreographer Busby Berkeley, could imagine a hoard of 60 platinum-blonde women carrying neon violins and neon bows, each instrument a synecdoche for a 100-foot-long lit-up violin, formed when the girls gather into tight formation. Theorists see it and admire the oddly totalitarian design (Berkeley was indeed a military-school grad); the average viewer can think of nothing but the word "Sweet!" Double-billed with this spicy musical is Mae West in She Done Him Wrong (1933). "Swinging hips, bedroom eyes and the throaty growl of an amorous cat—she just doesn't give a damn!" slavered the poster. Such was West; in her first important role, she plays a saloon owner with a thing for the Salvation Army minister (a very young Cary Grant). By weird synchronicity, at the Niles Film Museum is presenting a Friday show of some other pre-Code snippets, including cartoons starring Blondell's cartoon rival, Betty Boop. Boop originated as a cartoon dog version of Gloria Swanson; she morphed into a long-legged innocent, parodying the voice of popular girly-girl vocalist Helen Kane. As the '30s unrolled, Betty became bolder. Some of the best jazz bands of the time turned up in her cartoons. Regular contributors included Cab Calloway, Don Redman and Louis Armstrong. As an added draw to this night of vintage titillation, cabaret artist Kitten on the Keys comes in for a few numbers. Kitten is an accordionist who loves a double-entendre. Her version of Harry Roy's '30s salute to the kitties and the men and ladies who pet them, "My Girl's Pussy," may keep thoughts about the economy away for a few minutes.
GOLD DIGGERS OF 1933 shows Jan. 31–Feb. 2 at 4:25 (except Feb. 2) and 7:30pm with SHE DONE HIM WRONG at 6:15 and 9:20pm at the Stanford Theatre in Palo Alto. THE PRE-CODE FOLLIES shows Jan. 30 at 8:30pm at the Niles Essanay Silent Film Museum, 37417 Niles Blvd., Fremont.
Click Here to Talk About Movies at Metro's New Blog
Send a letter to the editor about this story.