01.28.09
home | metro silicon valley index | music & nightlife | band review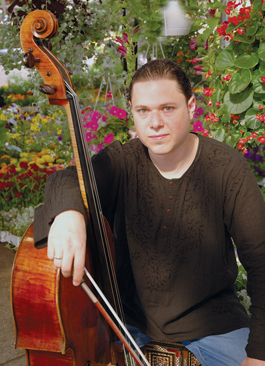 MESSIN' WITH MESSIAEN:
Matt Haimovitz rethinks a classic.
Messiaen Remix
By Michael S. Gant
THE CELEBRATIONS to mark the centenary for the French composer Olivier Messiaen continue to spill over into the new year (he was born Dec. 10, 1908). In the second of three Messiaen tributes, Stanford Lively Arts presents an unusual angle of attack on Messiaen's most famous work, The Quartet for the End of Time. Messiaen, a Catholic, was imprisoned in a German camp early in World War II and, during his incarceration, wrote the piece for some fellow inmate musicians, including Henri Akoka, a Jewish clarinetist.
Taking their cue from Akoka's background, clarinetist David Krakauer and cellist Matt Haimovitz reinterpret Messiaen's mystical ideas using the klezmer idiom in Akoka. DJ Josh Dolgin, known as Socalled, will do the same job in an electronically enhanced selection called "Meanwhile (A Messiaen Remix)," which includes fragments of World War II radio broadcasts. In between, there will be a full performance of the Quartet, with help from pianist Geoff Burleson and violinist Todd Reynolds. (On Feb. 22, Stanford Lively Arts will present its final Messiaen concert, a performance of the piano work Vingt Regards sur L'Enfant-JÚsus.)
AKOKA: MESSIAEN REMIX is presented on Wednesday (Jan. 28) at 8pm at Dinkelspiel Auditorium, Stanford University.Tickets are $17–$38. (650.725.ARTS)
Send a letter to the editor about this story.