01.28.09
home | metro silicon valley index | the arts | stage | review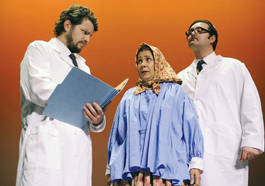 Photograph by Dave Lepori
MEDICAL MALPRACTICE: Rita Quintero (VIVIS) suffers at the hands of her psychiatrists in 'The Woman Who Fell From the Sky.'
Fallen
Teatro Visión examines a cultural chasm in 'The Woman Who Fell From the Sky'
By Jessica Fromm
IN 1983, Rita Quintero was found by police eating out of trash cans and talking incoherent "gibberish" in a Kansas suburb. Dressed in an "eccentric" outfit of multiple skirts and layered shirts, she didn't understand time and spent days chanting and dancing by herself. Speaking in the little Spanish she knew, she only managed to get across that she "fell from the heavens." Diagnosed as a schizophrenic, Quintero was institutionalized for 12 years in a Kansas state insane asylum, forced to consume debilitating medication and muddled treatment. But Quintero was not mentally ill. Speaking only the ancient dialect of her people, a remote northern Mexican tribe called Tarahumara, it was impossible for her to communicate with her American doctors. They labeled her native cultural behavior sick and bizarre, a "hopeless case."
Now in its 25th year, San Jose's Teatro Visión presents La mujer que cayó del cielo, or The Woman Who Fell From the Sky, a heart-wrenching tale of the appalling effects of cultural misunderstanding and apathy. Written by famed Mexican playwright Victor Hugo Rascón Banda, who passed away last year, the play is closely based on real-life events. With such tragically sad subject matter, it is fortunate that the drama lasts for only 90 minutes. Teatro's production is directed by Elisa M. Alvarado and performed trilingually in English, Spanish and Tarahumara. The story weaves together the chronological events of Quintero's stay in the asylum, where her life becomes a hell of frustrated, inept doctors, abusive overmedication, cross-cultural intolerance and lack of communication. Composed in a series of often-repetitive episodes, the script itself lacks a clear pinnacle. Though the story's monotonous nature may be meant to mirror the slow passage of wasted time Quintero spends in captivity, in the end the production begins to feel sluggish.
Hands down, the highlight of The Woman Who Fell From the Sky is veteran actress VIVIS as Quintero. Her performance is so genuinely moving and pitiful that I never doubted her in this role for a second. In one segment, she brilliantly mimes Quintero's life experiences in Mexico, from playing as a young girl to marriage, childbearing and motherhood. When Quintero becomes permanently physically damaged by the powerful cocktail of psychotropic medication the hospital's doctors shove down her throat, VIVIS adds a convincingly disconcerting set of quivers and ticks to her character's demeanor. Ted D'Agostino and John Romano play Quintero's insensitive, ham-fisted physicians, while Rodrigo Garcia plays the compassionate hero of the play, Mexican psychologist Miguel Angel Giner. Teatro Visión's taste for surrealist theatrical elements is obvious on the circular set, where scenic designer Leigh Henderson uses projected video and photos of the Tarahumara to give the audience a perspective on the world where Quintero is coming from. Although The Woman Who Fell From the Sky becomes convoluted toward the end, with a plot twist that drains the play of some of its moral oomph, the production remains a powerful critique on the apathy and cruelty of insane asylums and the dangers of cross-cultural misunderstandings.
 THE WOMAN WHO FELL FROM THE SKY plays Thursday–Saturday at 8pm and Sunday at 2pm through Feb. 8 at the Mexican Heritage Plaza, 1700 Alum Rock Ave., San Jose. Tickets are $10–$24 (408.272.9926).
Send a letter to the editor about this story.