01.28.09
home | metro silicon valley index | columns | style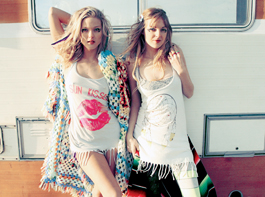 FREE SPIRITS: These fun fringe tanks are by L.A. based style house Wildfox Couture.
Style
Fringe Festival
By Alexis Mendoza
MISSING THE '60s? Don't, fret—Native American–inspired trends are on the rise. Feathers, beads and tassels have been creeping their way onto runways all over the place. These trends are inspiring all apparel, including boots, bags, jewelry and dresses. Celebrities are sporting designer threads by rising talents like LaRok, Mara Hoffman and Rachel Pally.
The color palette for this look is earthy. Bright hues reminiscent of the elements such as brick red, sea-foam green, sunny yellow, black, gold and beiges are being featured this season. Consider some fringed suede boots, a pair of distressed jean shorts and a flowery top for an effortless cool look this spring. This trend isn't only for the day, because a printed maxi dress with bold patterns can spice up night wear, too. Add a chunky jade bracelet and a glowing tan to the mix for the perfect spring date outfit. Buyers might consider looking at both high-end designers and no-names as well. Minnetonka has the widest selection of Native American boots on the market. Authentic-looking and cheap, they're better than most designer impersonations.
This American Indian–inspired look can play up sexy natural beauty. Women with bigger hips might try a flowing tribal-printed baby-doll dress, combined with a leather waist belt and a tight, fringed suede vest. An outfit like this will flatter even pear-shaped bodies. A long fringe flowing from the top of a summer dress plays up cleavage and adds interesting movement when walking.
Tame unruly tresses by using a simple leather cord with feathers at the end, wrapped twice around loose locks. Do-it-yourselfers will be pleased to hear that making a custom pair of beaded earrings or headbands can be as easy as cut, glue and wear. Speaking of jewelry, this look is in no way limited to the fabric world. Anything with jade, beads, feathers and leather can bring a refreshing eclecticism to an outfit.Though this trend leans toward easy casual wear, working women can don feathers and suede, too. Try a pair of fringed heels to match a brightly colored A-line skirt, and then keep it simple on top with a white blouse. The pairing of a colorful skirt with a crisp white tops says fun but functional.
This look is hot right now, but be careful, because it's easy to get carried away. When the guy at 7-Eleven calls you Sacagawea, you know you're wearing one too many feathers.
Here are some examples of how to have some fun with this trend:
New York designer Mara Hoffman gained fame for her sexy, sophisticated apparel adorning the backs of celebrities like Sarah Jessica Parker and Naomi Campbell. Her spring line is full of beautiful and sleek designs for the elegant woman. Take for example the Native PRINT DRAPED BACK Dress, with its graceful cut that plays up fabric with bold patterns and vivid colors. This dress is a good option for chic evening wear, and is available at www.shopbop.com for $330.
True Religion boots can bring the Native American look to any outfit. They're simple and classic, but retain an edgy hipster element. Tuck them into a cute pair of skinny jeans, throw on some feathery jewelry and the look is complete. These boots can be found at True Religion Jeans for $280.Nordstrom has stocked up this season with beautiful and classic Indian-inspired designs that can match any outfit. This jade stretch cuff is easy to pair with a white cotton shirt and some jeans, adding a splash of flair to everyday wear. Find this cuff at Bay Area Nordstrom stores or at www.nordstroms.com for $98.
Send a letter to the editor about this story.