01.30.08
home | metro silicon valley index | columns | silicon alleys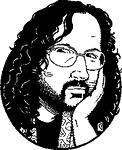 Silicon Alleys
Trippin'
By Gary Singh
ALL SCRIBES eventually come across books they wish they'd written. With that in mind, I recently I felt the urge to peruse a glossy coffee table tome called Weird California: Your Travel Guide to California's Local Legends and Best Kept Secrets. Sure, it's only 2 years old, but in my opinion it's already a classic. You see, this magnum opus is just one in a now wildly popular series from the folks at WeirdUS.com. These folks have graced us with a series of hardback books, usually about 9-by-9 inches, 300 pages and $19.95, that search out the warped underbelly of nooks and crannies all across the American landscape. Titles include Weird New Jersey, Weird Maryland, Weird Arizona and more. The authors trip around the backwater and uncover stuff like albino enclaves, houses made of hubcaps or the world's tallest file cabinet, and then throw it all into these books, chock-filled with slick photography and snarky stories.
For Weird California, they cover stuff like Bubblegum Alley in San Luis Obispo, where the walls are covered in bubble gum 20 feet high; Church of Satan founder Anton La Vey's old house on California Street in San Francisco, which no longer exists; lost resorts of the Salton Sea; and celebrity grave sites, including '50s wrestling legend Gorgeous George. The authors did an adequate job, given that with California, you can't even scratch the surface with just one book like this. Co-author Joe Oesterle even admits this: "During a single night in Carlsbad alone, I met a 70-year-old man in oversized baby diapers and using a pacifier, a hardened crack dealer with automatic weapons in the pockets of his cut-off dungaree shorts and three snarling pit bulls, and a one-toothed used-car salesman who recited his own poetry to me for an hour straight. Next time I do a book for these guys I am definitely asking for a better hotel budget."
When the authors reached San Jose, they covered exactly what you would expect: the Winchester Mystery House and the Rosicrucian Museum. They completely dropped the ball by not including the big orange igloo that is Mark's Hot Dogs and that now famous Quetzalcoatl poop statue. I understand the space constraints, but both of those oddities should have been among the pages. I assume there will be a part two because if Weird New Jersey can constitute a second volume, then California absolutely can.
Don't get me wrong—the sections on the Mystery House and the Rosicrucian Museum thoroughly rock, as it's always fascinating to get an outsider's perspective on these places. If you ask any longtime local, the response will usually be that they either went there as a kid or never at all.
The combined six pages of material on the House include a letter from some soul named Bill, claiming his mother and her siblings grew up in the place. "My grandfather was manager of the house/property for over thirty years in the '40s through the '60s," he writes.
A little less space went to the Rosicrucian Museum, and the authors describe the statue in front as a "saggy-breasted hippopotamus in a Pharaoh's hat," which is pretty much what it looks like. After another page, they head off to SoCal and visit the original home of Madame Blavatsky's Theosophists, the Spalding Residence at Lomaland near San Diego.
Truckloads of other stuff fill the pages, including that one complex at the corner of Sixth and Howard in San Francisco with all the couches hanging out of the windows, and the giant octopus inside the Burbank Fry's Electronics. California has always been a peculiar place and for us locals, this book reaffirms our love for all things weird.
Contact Gary Singh or send a letter to the editor about this story.