01.30.08
home | metro silicon valley index | the arts | visual arts | review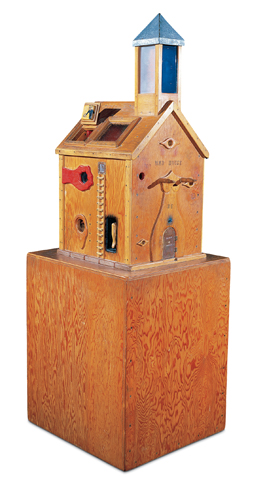 ŠEstate of Lester Beall/Licensed by VAGA, New York, NY
HIDDEN IN PLAIN SIGHT: H.C. Westermann's 'Mad House' conceals as much as it reveals.
Built to Disorder
H.C. Westermann's mystery boxes are as dangerous as Pandora'
By Michael S. Gant
AMERICAN artist H.C. Westermann's place in the pop-culture pantheon is ensured by the Beatles of all people. His cardboard-cutout image appears on the cover of Sgt. Pepper's Lonely Hearts Club Band. Who knows why? Perhaps because his initials echoed those of fellow album luminary H.G. Wells. Or maybe Westermann's name was linked to another cover star, Wallace Berman, an American artist who made sculptures from common materials. The Cantor Arts Center's retrospective of Westermann's work from the 1950s and early '60s proves that the Beatles were onto something. His painted wood constructions look like major statements by a sculptor cutting against the grain of abstraction and minimalism. Even his paintings, for which he often built heavy, 3-D wooden frames, appear to be sculptures in waiting.
A '50s-era photograph of Westermann, who was born in Los Angeles in 1922, shows a shirtless, muscular man with a prominent tattoo on his shoulder. The tattoo no doubt came from his stint in the U.S. Marine Corps (he enlisted in 1942) and aboard the U.S.S. Enterprise manning an anti-aircraft gun; the physique was built up from a couple years as an acrobat. When he started studying at the School of the Art Institute of Chicago, in the late 1940s, Westermann painted a self-portrait called The Reluctant Acrobat. A pensive, morose harlequin in a red fool's cap stares out from a Miro-like landscape, with a circus ladder supporting one end of a tightrope to nowhere. Although the artist, who also served in during the Korean War, was apparently not a reluctant soldier, his art shows a deepening disquiet about war during the 1950s. Like a lot of artists, Westermann reacted strongly to Guernica. In the painting The Storm (1953–54), he isolated the anguished horse of Picasso's epic outcry. The animal, angered and afraid, dashes in front of a simplified landscape with a Greek temple perched on a semicircular hill, as if to emphasize the age-old curse of conflict.
Destructive Machine From Under the Sea (1959) renders a robotic submarine with a grinning prow and jointed legs marching across a landscape of devastation; lightning bolts and flames shoot from turrets while tiny naked figures attempt to flee excrement spewing from the ass end of the monster. The style—funny, horrific and obscene all at once—prefigures the Bay Area underground-comics mayhem of S. Clay Wilson. The picture also echoes a strange series of paintings of imaginary mechanical monsters known as Fantastic War Machines created around the time of Pearl Harbor by San Francisco artist Clay Spohn.
Westermann often found danger coming from the sea. The 1956 sculpture Dismasted Ship is a wooden form of a sailing ship with two truncated bare masts; there are no railings or superstructures on this model, only a rudimentary hatch and a small bronze figure laid out on the deck in the crucifixion pose. This "death ship" motif reappears in the painting Metaphysical Meaning, in which a clipper ship courses through a remote sea full of treacherous icebergs under a burst of aurora borealis light. The visuals recall landscape artist Frederic Church's awe-filled The Iceberg, while the mood conjures up the ice-bound ship at the beginning of Frankenstein.
Several of Westermann's "paintings" in the show point the way to his remarkable sculptures. A ceaseless experimenter with materials, the artist made a flat image of swirls and spirals from carefully arranged, tightly packed cotton rope in Butterfly: the effect is like flying over a mad farmer's cornfield. He uses inlaid wood to create painterly effects in Two Acrobats and a Fleeing Man.
In his elaborate box constructions, Westermann goes beyond 3-D. These pieces are marked with symbols or words that appear on all sides, even the ones out of the viewer's sight. Elaborate events transpire inside the boxes, but we can glimpse this "fourth" dimension only by bending over and squinting. Austerility (1957), a small vertical structure of wood, glass and metal, looks like a prison high-rise in gunmetal gray. Two windows block access to tiny black entrances; a silhouette of a figure on one window could be a person fleeing in fear from this cell block.
Untitled (Unusual Physician) gives off a whiff of Pandora's Box—open at your own peril. This silver-painted pine box, 8-by-12-by-9 inches, is padlocked. Only a minute yellow door and two small windows allow us to peep at the interior, where a one-eyed healer figure looms over the body of a patient/mummy. The box is daubed with a matrix of the artist's fingerprints in blood-red paint. This talismanic container is as mysterious and ultimately unexplainable as the buzzing box that the customer brings to the brothel in Buņuel's Belle de Jour.
The star of the show is Mad House (1958), a sculpture in the shape of a church with a tall steeple. Various openings—a carved red hand forming a circle with thumb and forefinger, a cut-out eye, ear and mouth, the legs of a torso and various doors and windows—allow us tantalizing half-views of a complex interior where a man plucks out his eye and a monkey wears a baseball cap. Shafts of light from the orifices illuminate the action, as if this were a movie house of horrors. The sides of the building are painted with gnomic clues: "Have You Joined the Team Yet?" "For Those Who Aren't Right." In the belfry, a toy soldier—perhaps a stand-in for the artist—forever marches off to society's unending wars.
DREAMING OF A SPEECH WITHOUT WORDS: THE PAINTINGS AND EARLY OBJECTS OF H.C. WESTERMANN runs through March 2 at the Cantor Arts Center, Stanford. (650.723.4177)

Send a letter to the editor about this story.