01.30.08
home | metro silicon valley index | the arts | books | review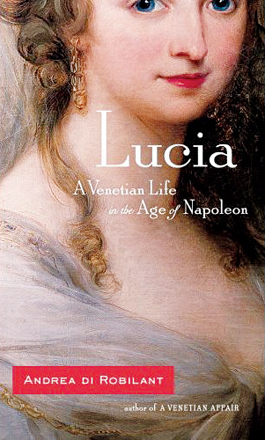 Lucia:
A Venetian Life in the Age of Napoleon
By Michael S. Gant
A long lineage can be a gift to a talented writer. Italian journalist Andrea di Robilant has taken great advantage of his family's deep roots in Venetian society to craft two wonderful family histories based on personal letters preserved for more than two centuries. A Venetian Affair (2003) chronicled the scandalous affair between di Robilant's great-great-great-great-great-grandfather, nobleman Andrea Memmo, and a remarkable English-Venetian woman in the 1750s. Lucia tracks the life of Memmo's daughter (by marriage, not the affair), Lucia, whose long life (1770–1854) encompassed the fall of the Venetian Republic, first to Napoleon, then to Austria, and eventually the city's resurgence as a cultural capital. Working with a cache of Lucia's intimate and insightful letters, di Robilant gracefully weaves together her personal life—marriage to Alvise Mocenigo, a scion of a famous Venetian family; multiple miscarriages; an affair and out-of-wedlock child with an Austro-Irish military man; an extended twilight as a grand dame in a grand palazzo on the Grand Canal. With her family's diplomatic background and her husband's wealth and connections, Lucia traveled extensively, with postings in Rome, Milan, Verona, Vienna and Paris, where she was attached to the court of the empress of France. When she wasn't being a doting (maybe nagging is a better word) mother to her son, Lucia found time to study biology at Paris' Jardin des Plantes and to help manage the family farms at Alvisopoli. By itself, Lucia's story is not all that interesting, but di Robilant provides enough larger historical context, especially Napoleon and the dismal political blunders that ruined Venice in the late 1700s, and eccentric details to make it seem relevant. As a child in Rome, Lucia witnessed the unveiling of the greatest bronze bell ever made—a project so difficult that its maker, Luigi Valdier, threw himself in the Tiber in despair. In Vienna, she encountered Wolfgang von Kempelen, the inventor of the famous chess-playing Turk machine (with a "dwarf chess wizard" hidden inside to move the pieces). At the fashionable resort of Baden, Lucia recoiled at the sulfurous waters: "Simply bringing the glass close to my lips makes me want to throw up," she groused in a letter to her sister. She witnessed the capitulation of Paris in March 1814. After the death of her husband, a cash-strapped Lucia rented out the first floor of her palazzo to Romantic poet Lord Byron, who filled the house with his lovers, his sycophants and his personal menagerie (birds, dogs "two monkeys, a fox and a wolf") before departing in an acrimonious dispute over his bill. Although Lucia's role as Byron's landlady reduced her life to a footnote in his, it turned out that the poet's enthusiastic writings about Venice did help rejuvenate her city as a destination for writers and artists, many of whom, including Chateaubriand and Ruskin, paid the distinguished matriarch a formal visit. (By Andrea di Robilant; Knopf; 350 pages; $24.95 hardback)
Send a letter to the editor about this story.