01.30.08
home | metro silicon valley index | silicon valley restaurants | review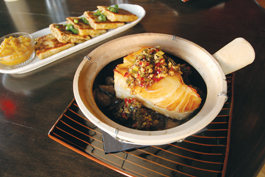 Photograph by Felipe Buitrago
ROCK YOUR BASS: Fillet of Chilean sea bass at Red Lantern.
Praise the Red Lantern
Pan-Asian is done right (for once) in Redwood City
By Stett Holbrook
UNLESS you live or work in Redwood City, it's probably not a place you go out of your way to visit, especially for great food. Palo Alto to the south and San Francisco to the north have more than their share of good restaurants. But the opening of Red Lantern this past November presents a strong case for making a detour to downtown Redwood City.
Billed as an upscale Southeast Asian restaurant, Red Lantern serves food from Vietnam, Burma, Malaysia, Indonesia, the Philippines, Thailand and Laos. Scattershot pan-Asian restaurants often falter because their menus offer tepid examples of each cuisine designed to please the masses, but executive chef Daniel Sudar's cooking shows confidence and mastery of a variety of cooking styles.
Sudar's poly-Asian approach isn't a marketing conceit. It's part of who he is. Sudar was born in Java, Indonesia, a country's whose cuisine is an amalgam of food cultures from Thailand, China, Holland, Portugal, India and some 300 indigenous ethnic groups. He learned to cook from his mother who was a caterer. He expanded his skills at San Francisco standout restaurants including the Dining Room at the Ritz-Carlton, Gary Danko, One Market, and most recently, Betelnut, where he was chef de cuisine.
Inside, Red Lantern is stunning. Formerly a government building, the 3,700-square-foot restaurant was gutted to create an exotic escape that avoids Trader Vic's kitsch. Soaring ceilings are hung with massive, red silk lanterns. Low lighting and warm earth tones cast the dining room in a sexy, dusky glow. But those tall ceilings mean the place can get cold on chilly winter nights. Some of the tables are pressed a bit too closely together, so opt for one of the cushy and more private booths. The bar and lounge are equally alluring. The lounge's centerpiece is a 20-seat communal table made from planks of 100-year-old petrified wood.
Pan-Asian restaurants are often guilty of encyclopedic menus, but Red Lantern's menu is well focused and just the right size. Soto kudus ($7), a refreshing, aromatic soup made with chunks of chicken, tofu, red jalapeņos and bean sprouts, is a great place to start. The clear broth is light yet invigorating. Green papaya salad is a Thai restaurant standard and Red Lantern's Chiang Mai salad ($9) is as good as any I've had with its kaffir lime–poached prawns and fish sauce–spiked dressing.
The list of appetizers (they go by the corny name of "delightful bliss" on the menu) is stellar. Everything I tried was good, but two dishes really stood out. Martabak ($9) is a popular street snack in Malaysia and Indonesia made with thin, griddled bread filled with spiced lamb. Here, the meat gets a generous dose of spice and is served with a cooling mango chutney. The crispy, chewy and pleasingly seasoned snack is so good I'm convinced if it were served at ballparks and stadiums across America it would replace nachos and garlic fries. Alas, that's not likely to happen, so you have to come here. The other standout is the abobong pinoy ($9), Kurobuta pork short ribs glazed with a vinegar-based adobo sauce. The meat truly falls off the bone, and the tangy, peppery adobo balances the rich pork perfectly. There's likely to be a fight at the table over who gets the last one of these.
I also loved the lightly battered and fried salt-and-pepper-dusted Vientienne soft shell crabs ($14) and the poke ($10), raw, silken ahi tossed with seaweed, sweet onions and cashew nuts and served with garlic crackers.
Entrees (called "taste of paradise" on the menu—ugh) are just as delicious. Cambogee beef ($20) combines incredibly tender cubes of beef sirloin in a delicious, aromatic salad of lemon grass, kaffir lime, galangal root and herbs. The result is a dish that's perfectly yin and yang—the hearty, grilled beef is lightened by the lively salad. Gulai kambing ($18) is a lamb shank dish that set me back in my chair it was so good. Rich, tender lamb clings to a big leg bone protruding from a bowl. The braised meat is cloaked in a sticky, lively curry that's equal parts spicy and sweet and served with a lovely cardamom-yogurt sauce.
Pepes udang ($20) is superb, too, and combines buttery sweet prawns, chiles, coconut and a faint hint of belancan (fermented shrimp paste) in a banana leaf. For something a bit lighter, the Phuket noodles ($11) and the garlic and lemon grass–seasoned adobo eggplant ($8) are the way to go.
While all the dishes I tried ranged from good to great, my one gripe is many of them seem to have been toned down. Salty, funky-tasting fermented shrimp paste is one of the primary flavors of many Southeast Asian cuisines, but you have to strain to detect it here. And where's the heat? True, most Americans don't have an Indonesian's tolerance for hot food, but for me the food here is too mild.
Red Lantern has put together a great wine list that includes several outstanding sake selections, too. Paring wine with the spicy and sweet flavors of Southeast Asian food takes a bit of thought and Red Lantern's ample list is an inspiration to go beyond chardonnay and cabernet sauvignon. Red Lantern also offers an excellent lineup of premium loose-leaf tea and an extensive list of creative cocktails.
Service is good, if sometimes a little stiff. The food and ingredients here are probably quite new to many of the servers, but they do a good job of explaining what they've learned about the menu.
For dessert (all $8), Red Lantern offers more than the predictable mango sticky rice and fried banana with dishes like putri nanas ($8), an excellent pineapple upside-down cake with vanilla bean gelato and cinnamon rum sauce and the dense coconut tapioca pudding with chewy coconut sorbet.
From starters to desserts, Red Lantern distinguishes itself from the Bay Area's profusion of contemporary Asian restaurants with both style and substance—and truly delicious food worth going out of your way to get.
---
Red Lantern
Address: 808 Winslow St., Redwood City
Phone: 650.369.5483
Hours: Lunch 11am–2pm Mon–Fri, dinner 5–10pm Sun–Wed, 5pm–11pm Thu–Sat
Cuisine: Southeast Asian
Price Range: $8–$22
Send a letter to the editor about this story.