01.30.08
home | metro silicon valley index | movies | current reviews | film review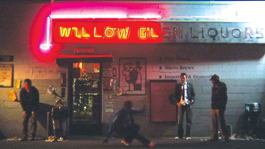 HANGING OUT: A local landmark makes an appeance in Paul Encinas' 'Glory Boy Days.'
Film Frenzy
The valley braces for another dose of cinema overload (and downloads) as Cinequest announces lineup for this year's film festival
By Richard von Busack
TAKING place partially in downtown San Jose and partially in cyberspace, the now-18-year-old Cinequest film festival is barreling toward us: Feb. 27–March 9 to be precise. The proprietors have been correct in their faith that the small movie of the future would be made without film and shown without projectors. Some of this year's fest will be as big as the interior of the California Theatre—where the past of cinema gets its all due honor—but many of the offerings will be seen on screens not much wider than an iPhone.
As this year's Cinequest is assembled, Cinequest can look back at a system of online distribution matched by few other film fests: four of Jaman.com's Top 10 downloads are Cinequest Distribution films. The ever-expanding Cinequest label now boasts 50 movies, including Flourish, which was previewed this month at Camera 3.
Recently, Cinequest's Jens Hussey and Mike Rabehl were remembering how they had to explain the future of online distribution to many of their colleagues—for which they were gawked at as if they were Silicon Valley propeller-heads. The big names scheduled to attend this year's Cinequest are just now being unveiled. The festival will bestow its Maverick Spirit Award on Bobby Moresco, a former actor who went on to co-producer Crash and Million Dollar Baby. Screenwriter Michael Arndt (who took home an Oscar for Little Miss Sunshine) will also be visiting the valley for an award and public conversation.
Another just-signed Maverick guest: John Leguizamo. The New York/Colombian actor is best known to your kids as the voice of Sid the Sloth and best known to adults as the often-alarmingly candid performance artist and actor, excelling in larger-than-life roles—or smaller than life, when he was foreshortened to play Toulouse-Lautrec in Moulin Rouge! Since there was such a Fox News–generated fury over Redacted, I'd love to know what Leguizamo thought about starting out as an actor in Brian DePalma's earlier film Casualties of War.
This year, Cinequest also promises much more party-fueled networking, with various libation tie-ins: nothing smoothes the rough corners of a cutting-edge film like a bumper of champagne or a pint of ale. Filmmaking and film watching are hermetic activities. Now that it is 18, Cinequest intends to lead people out of the dark and into the party. One of the film-cum-cocktailing sessions is the party scheduled after the screening of D-Tour: A Tenacious Documentary, which shows the stress fractures that pop up in the Kyle Gass/Jack Black duo.
The closing-night film, Take, is glum but socially redeeming, a graduate of the Crash course. Jeremy Renner plays Saul, a dead-man-walking convict; Minnie Driver plays Ana, a near-destitute woman driving across the desert for a rendezvous with Saul. What is their connection? More importantly, when will people in L.A. learn to watch where they drive?
Of the 80-plus films coming to Cinequest, one that I've seen and really like is the documentary Sputnik Mania by Santa Cruz's David Hoffman, reportedly the first film to be distributed by the History Channel. Adapting co-writer Paul Dickson's book Sputnik: The Scare of the Century, Hoffman follows the course of 1957–58, a yearlong great fear following the first satellite shot into space. Hoffman's film benefits from a wealth of archival footage, including some of the most dismally hilarious civil defense and propaganda films this side of The Atomic Cafe. (A Russian joke is quoted about how one should crawl to the cemetery in case of atomic attack because "running might cause panic.")
Speaking of local films, another one on tap is Paul J. Encinas' Slamdance-debuting Glory Boy Days, filmed at San Jose State University, concerning a mixed group of new bohemians on their way to the latest party—with location shots at Willow Glen Liquors! Kurt Kuenne's nonprofit documentary Dear Zachary also screened at Slamdance, the alternative to Sundance. It follows the case of the murder of Sunnyvale native Dr. Andrew Bagby, who was found dead in a state park in Pennsylvania.
All About Dad, a familial comedy/drama by young San Jose director Mark Tran, will be screened as a work-in-progress. This Dust of Words is the new documentary by Palo Alto's Bill Rose, whose The Loss of Nameless Things remains one of the best films ever played at Cinequest. This Dust of Words is an account of another promising youth who collapsed, Stanford student Elisabeth Wiltsee, who ended up homeless on the streets of Watsonville and then disappeared. Harpreet Dehal's Oceania is a story of troubled teenagers and their parents on the San Mateo coast.
A shot-in-standard-definition drama of a man rebuilding his life, Around the Bay by Alejandro Adams, hasn't been seen yet. Nevertheless, it already has a heavyweight endorsement, by The New York Times' Philip Lopate, who calls it "poignant and engrossing."
If previous years prove anything, far-away films will have as much to offer as the local crop. This year's harvest includes Empties, a.k.a. Vratne Lahve, the new one by Jan (Kolya) Sverák, about the recycled-bottle business in the former Czech Republic. Echoes of Home, by Stefan Schwietert (late of Accordion Tribe) is a documentary about an underserved form of popular music: Swiss yodeling. Tricia Regan's Autism: The Musical may sound even more unlikely; it's a documentary about five autistic children learning to perform. Stephen Stills of CSN&Y is a guest star.
The recommended Fear(s) of the Dark is the result of a tag-team gang of six artists including Blutch, Marie Caillou, Pierre di Sciullo, Richard McGuire and—best known around here—Charles Burns, the staff illustrator for The Believer, and author of the incredible Black Hole.
Eight films from Latin America will be featured. The one to watch for, just on the grounds of a YouTube preview, is Guy Maddinesque essay in retro cinema The Aerial by Esteban Sapir of Argentina.
Budding filmmakers will want to pay attention to the various forums, which offer a lot of expert technical, aesthetic and business knowledge. Among the topics to be covered this year: how Internet TV and films can intersect; techniques for sound (dialogue, music, etc.) production with Outpost Studios; a whole day (March 7) devoted to tips for screenwriters with James Dalessandro, Barnaby Dallas, Scott Sublett and others; and a session on new frontiers in digital cinematography.
And for those who are still nostalgic for 35 mm, the Stanford Theatre Foundation will present two silent film special events at the California Theatre: I Was Born, but ... , a 1932 family comedy/drama by the great Japanese director Ozu (shows Feb. 29), and October, Eisenstein's montage-mad salute to the Russian revolution (shows March 7).
We will report on much more about Cinequest in the weeks to come. A warning in advance. There's a Canadian film called Young People Fucking that I haven't seen yet, but years of the usual bait and switch convinces me they won't be. In this case, I'd love to be proven wrong.

CINEQUEST runs Feb. 27–March 9 in downtown San Jose. Check the festival's website at www.cinequest.org for details. Read more about the festival at www.metroactive.com. Full Disclosure: Metro is the official print-media sponsor of the festival.
Send a letter to the editor about this story.