01.30.08
home | metro silicon valley index | music & nightlife | band review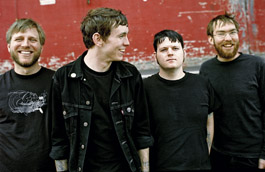 Photograph by Drew Goren
STILL SMILING: Against Me! opens for the Foo Fighters at the Oracle Arena in Oakland.
Polarity Shift
When Against Me! switched up its approach, the band may have lost its way.
By Gabe Meline
AGAINST ME! released its major-label debut album last year, and not since the mid-'90s scuffle of Jawbreaker's Dear You has a punk rock band so fully demagnetized the admiration of their fans with one simple act. For years fiercely independent, the Gainesville band even dedicated 2004's tour DVD We're Never Going Home to the unsuccessful wining-and-dining of major label executives, stating in the end that it remained nonplussed with the predatory world of corporate music; months later, a shocking bulletin appeared on the band's website: "Submitted for your disapproval: Against Me! signs to Sire Records." New Wave, a disillusioned stab at overproduced hitmaking which appeared in stores with a hollow thud, has just about finalized the dismay.
What's most disappointing is that Against Me!'s past glories had so widely reaffirmed a newfound strength in the underground, that loosely knit but no less crucial segment of society which has in recent memory been all too happy to be covered in price tags on the shelves at Hot Topic. But for many years, Against Me!, constantly on tour, playing cheap shows in basements and small clubs, played and sang their hearts out with seductive conviction. Four years ago, at the all-volunteer–run 924 Gilman in Berkeley, an explosive, energetic set culminated in frontman Tom Gabel climbing up onto bassist Andrew Seward's sturdy shoulders, beating wildly on his Rickenbacker and screaming to the rafters like it was the last night on Earth.
In this, Against Me!'s closest musical predecessor is probably the Clash, except that their swift career arc has disappointingly followed every predictable cliché, bar puff and all. More important to note is that the Clash navigated the hectic waters of stardom much more smoothly. Last year at the Warfield Theater, skewered onto an awkward Warner Brothers showcase with the excellent but mismatched metal band Mastodon, the band appeared far less at ease than ever before; rehashing formulaic maneuvers and poses from the Gilman show era, peppered with a new ironic sexiness (pushing and pulling the microphone stand in rhythm with simultaneous chest heaves), it was clear that the band was bored, almost as if scared to be themselves.
Against Me!'s stupendous back catalog is filled with anthems, and while Against Me! is onstage, most of the men in Gabel's band sing along with him. Not that anyone could hear—the crowd usually sings louder than the band, even during songs about how stupid it is to sing along. Rousing the audience more than any other is "Turn Those Clapping Hands Into Angry Balled Fists," a diatribe from the band's undisputed pinnacle (2003's As The Eternal Cowboy) that indicts the suburban lifestyle simply by listing its comforts. It's an incredibly effective trick, but in the fourth stanza, out of nowhere, Gabel screams the unlikely singalong: "I hate these songs! / I hate the words that the singer is singing! / I hate these melodies, I hate these stupid fucking drum beats!"
It's strangely charming when a singer in a band gets people to sing along to a song about a singer in a band who tries to get people to hate singing along to a song, but Against Me!'s latest attempt is even more of a doozy: New Wave's "White People Against the War" could very well be the only empowering political anthem about the futility of empowering political anthems. The chorus is slick, with pitch-perfect harmonies straight out of the Bad Religion handbook: "Protest songs in response to military aggression/ Protest songs to try and stop the soldier's gun/ But the battle raged on." The message, if the song even has one, is that we might as well cede control to those in power and stop screaming to the rafters like it's the last night on Earth.
Inexplicably, Spin magazine named New Wave the best album of 2007, and Bruce Springsteen, essentially through his kids, has signed on as a fan. But at the Warfield, the band followed "White People Against the War" with more clunkers from New Wave, ending with the album's closer, "The Ocean"—a long, slow dirge about the emptiness in Gabel's soul. It was painfully clear that the singalongs were over. On the floor, the crowd stood still; mouths open, but silent.
AGAINST ME! open for the FOO FIGHTERS on Saturday (Feb. 2) at 7:30pm at Oracle Arena, 7000 Coliseum Way, Oakland. $25-$45. (408.998.TIXS)
Send a letter to the editor about this story.