01.30.08
home | metro silicon valley index | the arts | stage | review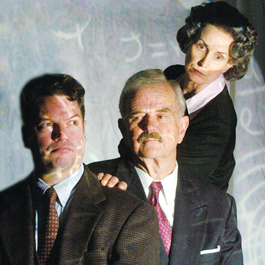 Photograph by Joyce Goldschmid
THE FISSION THING: Werner Heisenberg (Noel Wood, left), Niels Bohr (Charlie Anderson) and Margrethe Bohr (Ann Kuchins) debate nuclear ideas in 'Copenhagen.'
Big Ideas
Palo Alto Players debate physics and politics in 'Copenhagen'
By Marianne Messina
PALO ALTO PLAYERS' production of the ambitious Michael Frayn play Copenhagen has a promising premise: German scientist Werner Heisenberg (Noel Wood) comes to German-occupied Denmark to visit the home of his former mentor Niels Bohr (Charlie Anderson) and Bohr's wife, Margrethe (Ann Kuchins). The play tries to piece together what transpired between the two theoretical physicists, former friends now on opposite sides of the bomb quest. This woeful ghost of a Thomas Pynchon novel takes the exciting backdrop of intrigue, danger, ethical stress, world-changing science and fierce competition to develop a nuclear weapon and gets it to feel as empty as the stage.
Directed by Dave Sikula, the production is set on a bare, abstract design (Kuo-Hao Lo)—a frame of white, asymmetrical projection walls (used mostly to reflect varying intensities of white light) around an angled rise of sleek black flooring criss-crossed with white mortar lines and relieved only by three, white wooden chairs. Yes it suggests contrast of personalities and objectives; it suggests battle lines; it reminds us that things aren't really black-and-white and connotes uncertainty underfoot. Conceptually, it works, especially for the sort of afterworld in which the play begins, as the souls of Margrethe, Niels and Werner try to relive that emotional/historical intersection.
But partnered with the play's lack of action and the overabundance of theorizing in language as dense as plutonium, this colorless, empty stage only adds three parts of soporific to the mix. And sorry to say, many audience members obliged the formula by nodding off. So much more could have been done to bring excitement and human drama to the ethical dilemmas and amazing, paradigm-shifting science. It would seem that language in theater is like plutonium in nuclear fission—it doesn't take all that much to make a bomb. It's hard to know the degree to which production elements could have revived Frayn's script. It has thematic echoes of great plays—the science-meets-objective-reality of Proof, the math-as-metaphor and time-dislocations of Arcadia, the intriguing historical conjecture of Nixon's Nixon—and yet has none of the juice. The crude recital of historical facts—"1924 to 1927, what we did in those three short years ..."—feels more like an academic paper than human interaction.
On the plus side, the acting is robust, and all three performers must be congratulated for disgorging great volumes of data, theory and disputation. Noel Wood is especially energetic. His enjoyable Heisenberg (who, we learn, thrives on speed and instantaneous action) comes across as someone likeable but as squirmy as a hooked worm—tapping his fingers together guiltily or flinging his arms out in oratory as if hinging his arguments on bluster. The three-way tensions are best captured in one of the play's humorous exchanges: Bohr: "You sent in a first draft without my review." Heisenberg: "I shatter the objective universe around you, and all you can say is there's an error in the paper?" Margrethe: "Tea and cakes anyone?" Or something to that effect. In the end, Margrethe blossoms. Her civil, placating veneer comes off in layers of bald honesty. And the play puts forth an interesting argument—amid more ponderous but less well-executed ideas—that Heisenberg was actually the more altruistic of the pair, whatever history says.

COPENHAGEN, a Palo Alto Players production, plays Thursday–Saturday at 8pm and Sunday at 2:30pm through Feb. 3 at the Lucie Stern Theater, 1305 Middlefield Road, Palo Alto. Tickets are $26/$30. (650.329.0891)
Send a letter to the editor about this story.