01.30.08
home | metro silicon valley index | the arts | stage | review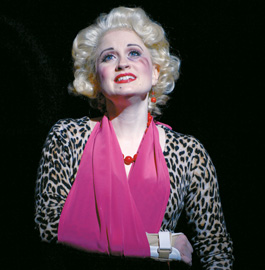 Photograph by David M. Allen Photography
SLING FLING: Christiane Noll's Audry takes her lumps in 'Little Shop of Horrors.'
Plant Food
A floral fury menaces one and all in AMTSJ's 'Little Shop of Horrors'
By Marianne Messina
AS Mr. Mushnik, the owner of the horrorful Skid Row flower shop in Little Shop of Horrors, former Barney Miller star Hal Linden plays the heck out of the clarinet for American Musical Theatre of San Jose's current production. In the show's hottest number, "Mushnik and Son," Linden produces a clarinet and wails on it with klezmer-inspired slithering and note bending in a brilliantly choreographed duet with Josh Lamon as shop-boy "son" Seymour. Based on a 1960 black-and-white film (incidentally featuring 23-year-old Jack Nicholson) in which a plant bitch-yelling "Feed me!" dominates Seymour's nerdy life, this musical version gives us a plant moved by its inner puppeteer (Gregg Rehrig) to sing gritty R&B in the rolling bass voice of Michael Mandell: "The guy sure looks like plant food to me."
In winsome green and fuchsia, the fat flytrap grows and invades the shop over the course of the show, revealing fleshy parts and teeth as it opens its trap. The plot is a simple Skid Row Faustian bargain between plant and nerd; feed the man-eating plant in exchange for fame, riches and getting the girl (Christiane Noll). Alan Menken's '50s/'60s-era music and Howard Ashman's pitiful lyrics add kitsch to the creature feature. Mushnik begins his offer to adopt Seymour with "I used to think you left a stench/ Now I see you are a mensch." Oy vey.
The most riotous scene is the death-by-laughing-gas number, "Now (It's Just the Gas)." Seymour sits transfixed while Audrey's cruel boyfriend, the sadistic dentist Orin (sung/laughed by Todd Alan Johnson), gets his gas deserts. In this number, not only is Johnson's moonwalker costume hilarious, his laughter is infectious. (Orin ultimately goes down the hatch—I couldn't resist). This production takes care of the grizzly with a tub of bloody body parts, blood-spattered walls and a story line in which blonde shopgirl Audrey (Noll) repeatedly shows up with body damage a la Orin. A multitasking chorus (Izetta Fang, Kristin McDonald, Adrienne Muller) gets some of the best songs, like "Little Shop of Horrors," replete with variations on a doo-wop. These girls are spirited, ubiquitous, and change clothes with the speed (don't blink) and frequency of runway models in their stunning, glittering Thomas G. Marquez fashion statements. As Seymour's deeds get darker, their outfits follow, including one shiny black-vinyl wrap accessorized with blood-red gloves.
In thick-rimmed glasses, the roundish Lamon makes a good nerd; spike-heeled Audrey towers over him. But Noll's thick Bronx accent, Marilyn Monroe modus and thin, sweet voice make her a charmer. Johnson is downright intimidating as Orin—even his walk transcended its stereotype. The curious choreography (Gabriel Barre) departs from the usual jumpy-bouncy fare, involving a lot of zombielike foot dragging. Barre's work excels, however, in large contrapuntal ensemble numbers—conversations of movement between alcoholics, bums, urchins, bag ladies and thugs. After the pure fun of fog, people-eating, meteors flying into the big, blue marble and plants growing into the crowd, didacticists will be happy to hear that the show rules on the Faustian bargain by parting with a cautionary dictum: "Don't feed the plant."

LITTLE SHOP OF HORRORS, an American Musical Theatre of San Jose production, plays Tuesday–Friday at 8pm, Saturday at 2 and 8pm and Sunday at 1 and 6:30pm through Feb. 3 at the San Jose Center for the Performing Arts, 255 Almaden Blvd., San Jose. Tickets are $14.75–$74. (888.455.Show)
Send a letter to the editor about this story.