01.30.08
home | metro silicon valley index | the arts | stage | review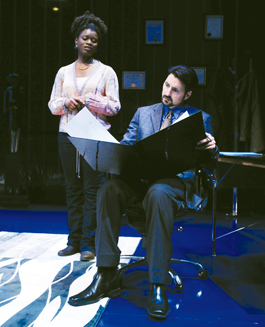 Photograph by Pat Kirk
THERAPEUTIC: Azmera (Kenya Brome) consults psychotherapist Philip (Thom Rivera) in San Jose Rep's 'Tranced.'
Buried Memories
San Jose Rep uses hypnotic tactics to reveal painful truths in 'Tranced'
By Marianne Messina
PEOPLE "trance" each other all the time, according to psychotherapist Robert Clyman, the playwright behind San Jose Repertory Theatre's new psychological thriller, Tranced. "When we're talking about something that happened to us, we all sort of set up the story," says Clyman. "We direct the listener towards a certain set of interpretations." Clyman sees this in his practice all the time. "I have to tell you as a practitioner that knowing the truth of what your patient tells you is not the most important thing." Nor does Clyman seem to have a problem sharing shaky unknowns in a relativistic world in which the trancer is almost as unaware as the person being tranced. "The main goal of a psychologist, if there is one, is to establish an alliance with somebody, and you don't establish an alliance by constantly withholding yourself and being skeptical."
The kind of trancing practiced in Clyman's play by the psychotherapist and lead character, Philip (Thom Rivera), is not exactly the same thing—a strategy to insure that others "see things more like we do"—but rather a deep-level hypnotic induction designed to access buried or blocked memories. African graduate student Azmera (Kenya Brome) has come to Philip for help with insomnia and panic attacks. Under a light trance, she reveals traumatic memories from early life in her homeland. But when the discoveries fail to alleviate Azmera's symptoms, and further investigation produces holes and inconsistencies, Philip decides to go deeper. What he finds drags him into the harsh politics of a troubled nation and nets him in a dilemma.
In taking on the role of Philip, one of the most challenging problems for Rivera was to make the trancing process convincing and, especially, not to remind the audience of old vaudeville acts with snake-oil types swinging pendulous watches. "The next thing you know somebody's hopping around the stage like a frog," Rivera describes, recalling his own skepticism. "Most hypnotherapy that's done does not involve posthypnotic suggestions so that you won't remember the sessions," Clyman clarifies; he, too, struggled against the hypnotist stereotype. To prepare for the role, Rivera watched actual taped sessions of therapeutic hypnosis. "Even having done the reading and watching it done in the video—it's something really tough to wrap my head around," Rivera admits, adding that Clyman's script makes his job easier by showing the hypnosis "through linguistics, specific choices of words." Rivera has found through rehearsals that it takes two to trance convincingly, and he can count on Brome to help him feel that the trance is working. "She's really great when she goes into the memories, the stuff we're accessing."
According to the playwright, Philip is "an intellectual alpha-male character," and Clyman originally worried that finding the right Philip would be tricky. "You don't want an actor who is as arrogant as that character." But Rivera seems to have a little more sympathy for Philip. "He's a guy who's chosen to shut out the world and create a little world for himself inside his expertise." These aspects of Philip's character caused Clyman to create him as a psychiatrist—the one with the M.D.—rather than a psychologist like himself. Clyman needed Philip to relate to Azmera as her problem-solver, which ultimately gets him into trouble. "'The authority' and 'the expert' is more a part of medicine than with psychology. The medical training, tends to make them more decision makers and result-oriented; a psychologist tends to be more process oriented."
Eventually, according to Clyman, Philip must face the question "How many lives is one person's life worth?" More about the plot than that, it's hard to squeeze out of either Clyman or Rivera—Tranced is a suspense tale after all. "At the beginning of the play you see someone who can never be thrown off-balance," Rivera offers. "He doesn't stay that way."

TRANCED, a San Jose Repertory Theatre production, previews Wednesday (Jan. 30) at 11am and 8pm, and Thursday (Jan. 31) at 8pm and opens Feb. 1 at 8pm at the Rep, 101 Paseo de San Antonio, San Jose. Regular performances are Tuesday at 7:30pm, Wednesday–Friday at 8pm, Saturday at 3 and 8pm and Sunday at 2pm through Feb. 24. Tickets are $37–$55. (408.367.7255)
Send a letter to the editor about this story.