January 31-February 6, 2007
home | metro silicon valley index | columns | 5 things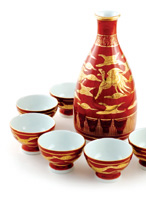 5 Things to Love
Restaurants With Great Sake
By Stett Holbrook
WINE or beer? Wine or beer? How about sake? While sake has an affinity for Asian food, it goes well with many other foods as well. Here are five restaurants that offer premium sake.
Alexander's Steakhouse Their sake menu contains six sakes with tasting notes and other details for sake geeks. 10330 N. Wolfe Road, Cupertino. 408.446.2222.
Gochi A wide selection of premium sake to match the excellent food. 199800 Homestead Road, Cupertino. 408.725.0542.
Kitcho As you'd expect from one of Silicon Valley's top sushi restaurants, Kitsho has a great sake list. Try the Nishida "Fountain of Joy," a deep, rich sake with peach and orange notes that feels like melted pearls going down. 19541 Richwood Drive, Cupertino. 408.873.1444.
Sino Restaurant and Lounge Sino's eclectic sake menu includes the "taste of heaven," a flight of sakes for $15. 377 Santana Row, San Jose. 408.247.8880.
Straits Restaurant Straits' sake menu is divided into the three levels of sake (junmai, ginjo and daiginjo) with tasting notes for each. 333 Santana Row, San Jose. 408.246.6320.
Send a letter to the editor about this story.