January 31-February 6, 2007
home | metro silicon valley index | columns | silicon alleys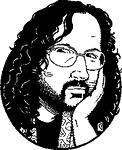 Silicon Alleys
Where the Signs Still Spin
By Gary Singh
WHEN I eventually write a travel guidebook to the industrial wastelands of San Jose, I will definitely include the area bounded by Alma Avenue to the north, Curtner to the South, Almaden Expressway to the west and Monterey Highway to the east. It is indeed primo territory through which to slither.
To gather material, I began an escapade at the corner of Monterey Highway and Alma and proceeded westward down Alma, a beautifully dilapidated stretch of road. The dive corner markets, vacant lots and feral cats just brightened up my day like a thousand suns. Instead of turning south down Little Orchard Street, I ambulated all the way to Almaden and drooled over the famous Bear's Cocktail Lounge and its spinning sign on the corner. Man, what an institution. There aren't too many watering holes with spinning signs anymore. Quickly passing by the new condos going southbound on Almaden, I ventured left on San Jose Avenue, one of the all-time legendary drags in this town. It is true industrial heaven. What greets you at that corner is Esmerelda's Tires and Wheels, and then a residential house with a sign that says Bruno's Tiling. After that, you're graced with an RV repair joint, various auto repair shops, a fenced-off yard filled with CO² gas tanks, Bobcat Batteries and more wreckage of all sorts. At 201 San Jose Ave., I found Bay Rag, a recycled clothing warehouse. The front door boasts a sticker that says "office" and two placards, one that says Bay Rag and the other the numerical address. An old man with a cigarette scurried out of the back door as I scoped it out.
Continuing east on San Jose Avenue, I nearly got run over by both a Snap-On tool truck and an empty San Jose Unified School bus, both of which were barreling down the street. But I did eventually make it to Duke & Racacho Cabinetry, a glorious warehouse that would make any carpenter proud. You could just smell the sawdust.
San Jose Avenue then ends at Monterey Highway, right where you find the Bold Knight steakhouse and San Jose Honda Sony, yet two more storied San Jose institutions. Nowhere else in the world will you find a Honda Sony shop, which is why their motto is "The One and Only."
From there, a quick jaunt south on Monterey brings the traveler to the next phase of the journey: a right turn westward onto Barnard Avenue, where the industrial wilderness continues. At the outset, a long stretch of light blue cookie-cutter warehouses sits across the street from a huge recycling plant. Then, smack in the middle of it all, I found Cottage Trailer Grove, a quintessential trailer park. Just outside is a green picket fence with a sign that says "Please don't feed the cat here thank you." Man, what an awesome street.
Barnard eventually reaches its end about 10 feet from the curve of Almaden Expressway, where it takes one of those 15 mph turns and becomes Stone Avenue as it goes south alongside the expressway. And on that road, you find even more of the industrial mecca. Loayza's Pools, Spas and Landscaping is yet another place to stare at pallets of every brick imaginable. Horizon Irrigation, right near there, is yet another place to gawk at every length and size of PVC piping imaginable. This is prime stuff, folks.
But at that point, I found it best to segue east through a nearby residential neighborhood and descend upon Little Orchard Street for the home stretch of this voyage. Heading south, I breezed by a slew of business complexes and a vacant lot where a mattress had been discarded. From behind the chain-link fence, another feral cat stared me down. I passed by a place called Old Orchard Mobile Park, a mobile home community, except an "A" was missing, so it said Old Orchard Mobile P rk. Within spitting distance of that mobile park, Little Orchard Street ends—right at the entrance to Oak Hill Cemetery, a fitting conclusion for this adventure.
Contact Gary Singh or send a letter to the editor about this story.