January 31-February 6, 2007
home | metro silicon valley index | movies | current reviews | film festival preview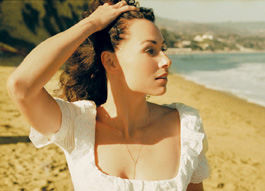 Courtesy Cinequest
Maximum Minnie: Minnie Driver will receive a Maverick Spirit Award at this year's Cinequest.
Beyond the Screen
Cinequest 2007 announces features, shorts and new web distribution tactics for this year's edition of film festival
By Richard von Busack
ACTRESS Minnie Driver, musician Stewart Copeland and writer/director J.J. Abrams are three of the celebs on the not-quite-confirmed-but-almost-sure list for Cinequest No. 17, the annual San Jose-based film festival, which runs Feb. 28-March 11. Abrams is the writer of Lost, director of Mission: Impossible III and the man in whom Paramount is placing its hopes to revive Star Trek. Copeland's contribution to film sound and music production isn't just limited to his electrifying soundtrack for Francis Coppola's Rumble Fish. And Driver (Good Will Hunting, et al.) boasts a mile-long list of indie-movie credits (she is also doing voice-over work for the upcoming feature film of The Simpsons).
The new Cinequest promises an online presence as big as what is onscreen. The festival has nearly tripled its film distribution. Cinequest's website (www.cinequest.org), which has hosted a half-million visitors, includes newly ramped-up video on demand so that far-flung fans can watch some of the festival's offerings.
Cinequest now offers indie films exclusive to the festival such as pay-per-view or free downloads; the latter will include films contending for the fest's "Viewer's Voice" pick, with voting a la American Idol. "We're trying to do something revolutionary here," says Cinequest's Jen Hussey; the festival will try to draw tens of thousands of guests while allowing hardworking independent filmmakers a chance to get their films to as many pairs of eyes as possible.
One new aspect of Cinequest is addressing the increasing popularity of the Internet, especially YouTube and its rivals, as a launching pad for short films. Cinequest will offer a smaller selection of short films this year but with more frequent screenings, in an attempt to provide shorts with the same kind of exposure given to feature films.
The festival gets off to a splashy start with Mira (Monsoon Wedding) Nair's new feature, The Namesake, about the stress of tradition and ambition in an extended Indian-American family. The festival closes with a contemporary comedy from Saigon, The Owl and the Sparrow, by Stephane Gauger. Gauger previously played Death in Six-String Samurai.
In between these two events comes a long list of parties, receptions and feature films (80 in all). Seminars abound. The "Day of ..." series spotlights various sides of the filmmaker's craft. This includes days about producing and distributing. "The Day of the Writer," the event where Abrams will be appearing, includes the naming of the winner of the annual scriptwriting contest.
Some of the highlights in the feature category follow.
You Are Here: Henry Pincus (of MTV's The Sausage Factory) directed and wrote this romantic tangle about a group of mutual-misunderstanding-prone L.A. clubbers. Stars include Bijou Phillips and Michael Biehn.
The Ghost Mountain Experiment is a stunningly photographed documentary about a family going back to the land in the 1930s in a remote part of the Anza-Borrego Desert. The documentary Out of Balance investigates Exxon-Mobil.
Midnight Clear—not to be confused with the Ethan Hawke film about the Battle of the Bulge—stars Stephen Baldwin as a despairing soul healing on Christmas. It is based on a short story by Left Behind auteur Jerry B. Jenkins and directed by Jerry B.'s son, Dallas. Speaking of alterna-Christians, Aaron J. Wiederspahn, of the Bible-rock band Dear Ephesus, directs The Sensation of Sight with David Strathairn as an English teacher turned encyclopedia salesman.
After these two opening acts, Christ himself—or an unreasonable facsimile—turns up in Brendan Keown's film version of Michael Moriarity's play Hitler Meets Christ. Oh, that wacky pair—what will they think of next? However, the film is not a new episode of South Park's Super Best Friends, but rather a discussion between two mentally ill vagabonds who only believe themselves to be Der Fuhrer and the Savior, set against Vancouver's wine country on East Hastings Street.
Super Amigos, a new documentary by Arturo Perez Torres (Wetbacks: The Undocumented Documentary), follows five luche libre wrestlers (a noble profession that has survived its encounter with Jack Black) who have turned to political activism in Mexico to fight pollution and homophobia.
In the wake of The Death of Mr. Lazarescu, no doubt art-house habitués will want to see what else Romanian film has to offer: Love Sick by Tudor Giurgiu follows a complex love triangle between brother, sister and girlfriend. Also from across the Danube comes the Hungarian hit Just Sex and Nothing Else. Dóra (Judith Schell) hears her biological clock going off, and determines to get some seed from a stranger.
"It is intelligence that distinguishes potential enemies from merely annoying foreigners." That's the motto of Military Intelligence and You, a black-and-white parody of World War II training films with romance, created by Dale Kutzera of VH1's Strange Frequency. We will have more on Cinequest in the upcoming month as San Jose gets set to become the independent film capital of America for two weeks.

Cinequest runs Feb. 28-March 11 in downtown San Jose. For details, check Metro or visit www.cinequest.org. Full Disclosure: Metro is a sponsor of the festival.
Send a letter to the editor about this story.