January 31-February 6, 2007
home | metro silicon valley index | silicon valley restaurants | review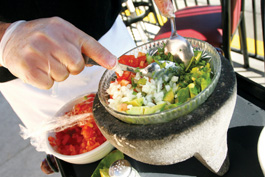 Photograph by Felipe Buitrago
You will believe a man can make guacamole: Alberto Fuentes makes it fresh at your table.
A Corner on The Market
El Rincon elevates the Morgan Hill dining scene while giving all of Silicon Valley a unique taste of regional Mexico
By Stett Holbrook
I COULDN'T help but feel a little smug.
I was having lunch at the Fairmont Hotel in San Jose earlier this month and listening to a presentation about the upcoming "Mexico Gastronomic Festival" to be held at the hotel Feb. 12-16. Bruno Figueroa, Mexico's consul general in San Jose, was lamenting the dearth of local Mexican restaurants that specialize in the fine, regional cuisine of Mexico. He's right. Silicon Valley Mexican restaurants seldom stray beyond tacos, burritos and chile verde.
But as I enjoyed a highbrow lunch prepared by Mexico City chef Ricardo Castro, I was looking forward to dinner that night at El Rincon, a tiny restaurant in Morgan Hill.
While El Rincon ("the corner" in Spanish) does serve burritos and enchiladas, it's one of the few Mexican restaurants in Silicon Valley where you can get the kind of contemporary and regional Mexican food Figueroa was longing for. One of the only other restaurants that comes close is Santana Row's Consuelo Mexican Bistro.
If you eat at 1-year-old El Rincon you might notice the food is similar to that at Consuelo. And you'd be right. Alberto Fuentes, El Rincon's chef and owner, was executive chef at Consuelo and created the restaurant's menu. He left the San Jose restaurant to open his own place, and he's taken most of his dishes with him and added a few others. While Consuelo is a big, rowdy, margarita-fueled restaurant, El Rincon is a little shoebox of a place with about a half-dozen tables inside and three outside. Fuentes doesn't have a liquor license yet (the agua frescas, $2, are quite good, though), nor does he have any help waiting tables, washing dishes or cooking. Fuentes does it all.
Because it wasn't busy on my two visits my food was served quickly. But I could imagine having to wait a while when the place is more crowded. But Fuentes is so earnest working away in his tiny kitchen and the food so good that it would be easy to cut him some slack. Meanwhile, he says he's looking for a bigger location.
The restaurant is a welcome addition to Morgan Hill, a city not known for its wealth of quality dining options. Guacamole prepared tableside has become one of Consuelo's signature starters and it's just as good here ($6), perhaps even more so because the man who invented it is the man who makes it. For the uninitiated, Fuentes mashes up fresh avocados with onions, cilantro and lime juice in a Mexican mortar and pestle called a molcajete. Minced chile peppers are added to your desired level of spiciness. Instead of tortilla chips, it's served with warm corn tortillas.
Sopa de tortilla ($6) is another great starter. The creamy, hearty soup is made with tomatoes and puréed pasilla chiles. The chiles give the soup a pleasing spicy, earthy quality that's a welcome change from more typical versions of the soup.
I had chamorro de cordero ($14) at Consuelo, but it's better at El Rincon. A fat, meaty lamb shank is smeared with a piquant muscat wine and spice paste and steamed long and slow in a banana leaf. Peal back the banana leaf and you could almost eat the meat with a spoon it's so tender. Fork off a morsel of the meat and put it in a tortilla with a squeeze of lime and you're in lamb heaven. The trio of tomatillo, guajillo and mango salsas served on the side adds to the deliciousness.
Chicken pipian ($10) is another must-order. Tender chunks of chicken breast luxuriate in a bright green, brightly flavored sauce of puréed tomatillos, pumpkins seeds and pine nuts. Compared to the pipian, mole poblano ($12) was subtler and earthier, but the Puebla-style chile-nut-chocolate sauce was still satisfying.
Huitlacoche is a delicious fungus sometimes called corn smut that grows on kernels of corn. It's also called Mexican truffle, which sounds a whole lot better than corn smut. It's a rarely seen ingredient in these parts, but you'll find it here in the pechuga rellena de huitlacoche ($11). In spite of its exotic-sounding name, it's actually pretty tame stuff that tastes like a wild black mushroom. It's stuffed into a chicken breast along with corn and served atop a rich tomato sauce along with steamed chayote, a kind of squash.
For dessert, I had one of the best chocolate cakes ($6) I can remember. The warm, moist cake dissolved on contact with my mouth and exploded with the deep, bittersweet and spicy flavor of Mexican chocolate. The scoops of vanilla ice cream were almost too much. Almost. Good too are the crepas with cajeta ($6), thin crepes aswim in a caramel sauce with vanilla ice cream on the side.
Given the size of Silicon Valley's Mexican-born population and the region's love of Mexican food, it's a wonder there aren't more places that serve food like El Rincon. Until then, the restaurant has a corner on the market in Morgan Hill.
---
El Rincon
Address: 45 E. Second St., Morgan Hill.
Phone: 408.778.6769.
Hours: 10am-9pm Mon-Sun.
Cuisine: Mexican.
Price Range: $8-$14.
Send a letter to the editor about this story.