January 31-February 2, 2007
home | metro silicon valley index | the arts | stage | review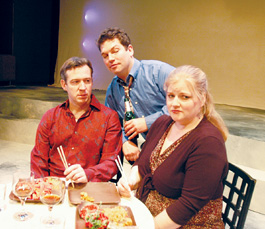 Jennie Brown Photography
Triangulation: Tom (Eric Rice, left), Carter (Noel Wood) and Helen (Laura Jane Bailery) quip their way through 'Fat Pig.'
Brutal Banter
City Lights sets Neil LaBute's harsh words free to lacerate and tickle in 'Fat Pig'
By Marianne Messina
THE TITLE of Neil LaBute's play Fat Pig may sound harsh, but it is nothing compared to the mudslinging and prankish name-calling that go on in this City Lights California premiere. The titular farm animal is none other than a spunky BBW ("big beautiful woman" as they say in the classified personals) named Helen (affectionately played by Laura Jane Bailey). Tom (Eric Rice) meets Helen when he sits next to her at a diner counter (sound effects by Kirk Pierron and director Tom Gough create that busy, clattering ambience).
From her first banter with Tom, Helen out-quips him, especially by beating him to the fat jokes. And by the time she's writing her number on his napkin, Tom has noted she has a "potty mouth" and is "pretty direct" (about sex). Handing him the napkin, she says, "Now when you wipe your mouth you'll think of me." Helen makes it clear that she's fairly comfortable in her plus-size skin, and on opening night, the audience erupted in applause when Bailey made her first-scene exit.
At this point in the play, we'd be on our way to romance if we weren't at the mercy of LaBute—and if Tom weren't defined by his office job. Enter Carter (Noel Wood), who spends more time on Tom's office couch reading men's magazines than he does working. Carter is the voice of what's cool and what's not. "This place is kinda out of the loop by about three years," he says of a restaurant. Surpassing his role as the guest who wouldn't go away, Wood is at the top of his game as Tom's callow colleague. The minute the instinctive Carter guesses Tom has a girlfriend, he's on him for "the dirt." "Everybody's got dirt, my friend. We're dirty." Wood plays gremlin glee to perfection, and manages to do it without excessive hand rubbing or other obvious signing.
Add to this mixture the haughty, ex-almost-girlfriend Jeannie from accounting (Elizabeth Coy), with whom Tom has been having a tepid dalliance. Jeannie is everything that earns the Carter seal of approval: svelte, fashionable, attractive. Between Carter and Jeannie, Tom's hesitance comes to the fore, his inability to clarify anything for anyone. And still the savage quipping and repartee never stop, joined by Carter's pranks and slapstick bullying from the jilted Jeannie (can Tom spell sexual harassment?). In one of Carter's irresistible and merciless jokes, he predicts that Tom will someday find himself saying, "I've got this fucking sumo wrestler in a housecoat following me around."
At the end of Act 1, the bed is rolled out from under the platform that serves as Tom's sparsely furnished office (desk, couch). That leaves the intermission pregnant with anticipation: uh-oh, a bedroom scene. I found myself thinking, here come the body-image issues. But Helen really doesn't have issues with her weight, and her seminudity makes a freeing statement in the bedroom scene. With this, the play lets us know that in addition to judging Tom and Carter, we're also examining our own relationship to roly-poly bodies. Given the play's intense ending, Helen and her bold humor should have gotten equal time on the stage. LaBute obviously has more confidence in his rakish office-shark humor—what does that say? Though Rice could ease off on the gill puffing as a means to fill Tom's hesitations, overall he nailed the guy, one of those infuriating people who are so far from their image of themselves, they give out waves of mixed signals. Smooth timing and an efficient, unobtrusive set design (Ron Gasparinetti) set the words free to lacerate and tickle all on their own. Sharp and brutally funny, City Lights and director Tom Gough have come up with a nearly impeccable production.
Fat Pig, a City Lights production, plays Thursday-Saturday at 8pm and Sundays at 2 (Feb. 18 and 25) or 7pm (Feb. 4 and 11) through Feb. 25 at 529 S. Second St., San Jose. Tickets are $20-$35. (408.284.4200)
Send a letter to the editor about this story.