January 31-February 6, 2007
home | metro silicon valley index | music & nightlife | preview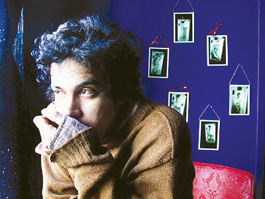 Cover your mouth: We don't want to hear your uvula, either.
Musicbox
M. Ward
EVEN FOR A NONFAN, it's hard not to recommend indie darling M. Ward, whose exquisitely crafted country folk songs echo the newfangled retro tunes of Devendra Banhart. Ward's latest album, Post-War, is lush with musical accompaniment, but still gives plenty of time in the spotlight to his singular scratchy, blues-tinged voice, which is often recorded so that if his epiglottis so much as twitches, you hear it. And you like it, don't you, M. Ward lover? Victoria Williams also performs.
M. Ward performs on Saturday (Feb. 3) at 8pm and Sunday (Feb. 4) at 7pm at Bimbo's 365 Club, 1025 Columbus Ave., San Francisco. Tickets are $20. 415.474.0365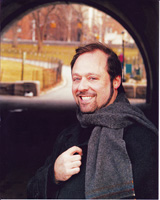 Real Americans wear scarves: And Steven Mayer is happy to be a real American.
American Music
STANFORD LIVELY ARTS brings us a celebration of American music for the piano, featuring a performance, demonstrations and discussions. Be warned, though: when music historian Joseph Horowitz gets going, his verbal diablerie is unstoppable. His cerebral essay introducing American Piano, a program he developed for protean pianists Steven Mayer and Anthony de Mare that honors important American composers like Philip Glass, Anthony Philip Heinrich and John Cage, deftly parses the meandering strains of America's "native repertoire," using words like "diablerie" and "protean," probably because they're awesome, just like this show. But don't take my word for it; the New York Times says American Music is "piano playing at its most awesome." Sweet. (Mike Connor)
Anthony de Mare and Steven Mayer perform American Music on Saturday (Feb. 3) at 8pm at Dinkelspiel Auditorium, 471 Lagunita Dr, Stanford University. Tickets are $18-$40. (650.725.ARTS)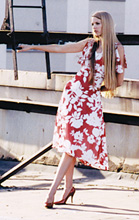 Ladder day chanteuse: Circe Link hangs onto the past.
Circe Link
CHANNELING both the jazz songbirds and the country legends of old, Circe Link blends together blues, jazz, folk and country sounds that pay tribute to their roots while still cutting a new swath in the modern musical landscape. Circe Link artfully hits a certain edge that's at once poetically melodic in scope and nostalgic in style without being a one-trick, flashback pony. Kicking it live with a myriad of talented musicians, Circe Link drifts back in time with a punch of modern appeal. Sped-up rockabilly riffs from Oakland's Royal Deuces get things going before Circe commands the stage. (Ryan Osterbeck)
Circe Link plays on Saturday (Feb. 3) at 9pm at Johnny V's, 31 E. Santa Clara St., San Jose. Tickets are $5. (408.947.8470)
Send a letter to the editor about this story.