January 31-February 6, 2007
home | metro silicon valley index | the arts | visual arts | review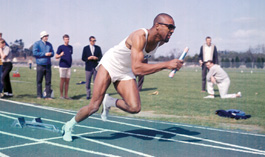 Photograph by Jeff Kroot
Relay man: John Carlos accelerates in 1968.
Out of the Blocks
'Speed City' show at History San José details a tumultuous time in San Jose State athletics
By Gary Singh
WITH San Jose State University's football team winning a bowl game for the first time in ages, everybody is yakking about that campus's athletic program and its history. And many folks are simply not aware that a lot of controversial goings-on rocked the boat back in the '50s and '60s.
There was much more than just a few raised fists worth mentioning, and that's exactly why Urla Hill curated the exhibit Speed City: From Civil Rights to Black Power (1956-1969), currently at the Pacific Hotel Galleries at History San José in Kelley Park. The show documents a tumultuous time in San Jose State's athletic program, beginning in the post-World War II era through the turbulent times of the '60s.
By now, most individuals have heard the story of Tommie Smith and John Carlos and how they gave the Black Power salute on the dais after winning medals in the 1968 Olympic Games. There's even a statue of them at SJSU behind Morris Dailey Auditorium.
But this exhibit reminds people they were only two components of a long tradition of a college recruiting peoples of color at precisely a time when that just wasn't done very much. The show contains dozens of photographs, mementos, relics, books, pamphlets and all sorts of documentation.
SJSU was called San Jose State College back in those days, and Bud Winter was the track coach from 1940 to 1970. He recruited black athletes from all over the place, wrote several books and trained athletes the same way he trained fighter pilots in the Navy. The show rightfully covers him in massive detail.
And then there's Julius Menendez, the only person to ever have coached two different sports at the Olympic level, boxing in 1960 and soccer in 1976. Born into a Spanish immigrant family, he barely spoke English when he came to San Jose State, and the racists of the day harassed those who brought him here.
But he became fluent and even majored in English. Before moving on to the Olympics, he coached San Jose State to boxing titles in 1958, 1959 and 1960. He is remembered by his athletes for helping them prepare their papers for classes. Imagine that. A coach actually helping his students to excel academically instead of pressuring department chairs to change the athlete's grade so he can remain eligible. I guess those were the good old days.
The show has already drawn keen interest. Just last week, curator Urla Hill was in the house, and an old-timer who went to San Jose State in the late '50s was talking her ear off for 15 minutes about the old days. He actually knew several of the athletes documented in the show. The opening reception was a monumental success, drawing several folks from far outside the area.
Lastly, such a show would not be complete without the huge five-panel mural painted by students of SJSU art professor Bob Friemark in the late '70s. It features Smith and Carlos doing the salute, as well as a skyline of San Jose, Al Capone with the CIA written on his shirt cuff, as well as a heroin addict and the Statue of Liberty.
The mural was controversial for its times, and it still contains the original scribblings from folks who defaced it. Someone wrote, "How can you paint this trash." Another wrote, "damn commies."
The mural was originally displayed in the student union and eventually tossed into the trash, but professor Lou Holscher rescued it. That was 30 years ago, and the mural now lives on at this exhibit, one that every SJSU student should be required to visit. "Speed City" comes as close as anything I've seen to documenting a slice of SJSU history that is not usually told. Since SJSU is currently celebrating its 150-year anniversary, the timing is perfect.
Speed City runs through Nov. 30 at the Pacific Hotel Galleries, History Park, 1650 Senter Road, San Jose (408.287.2290). There will be panel session about the show Feb. 8 at 7pm the at Almaden Barnes & Noble.
Send a letter to the editor about this story.