02.04.09
home | metro silicon valley index | silicon valley restaurants | review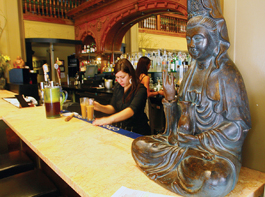 Photograph by Felipe Buitrago
TRADITION AND CHANGE: Three Seasons makes modern Vietnamese cuisine work without being more of the same.
Well Seasoned
Three Seasons in Palo Alto does modern Vietnamese cuisine with flair
By Stett Holbrook
THE MODERN Vietnamese restaurant in the Bay Area has developed to the point where one can predict much of what the menus will say. Nontraditional spring rolls filled with things like mango, duck and avocado: check. Catfish in a clay pot: check. Green papaya salad: check.
And of course every modern Vietnamese restaurant worth its sriracha has to have "shaking beef" on the menu. For all their boasts of East-meets-West innovation, most of these restaurants seem to be reading from the same playbook with varying levels of success.
A friend steered me toward Three Seasons, a Palo Alto purveyor of modern Vietnamese food. While I trust his judgment in restaurants, I wondered whether this place would be more of the same old thing. The restaurant checks off many of the boxes for upscale Vietnamese food, but the results are better than most.
Much of the menu is familiar, but Three Seasons scores on account of its superior execution and light touch. A cool, two-level dining room dominated by a striking circular stained glass ceiling and an ornate wooden bar that serves great cocktails help set Three Seasons apart, too.
But it's the food that made me a believer.
Like many upscale Vietnamese restaurants, Three Seasons serves a few traditional dishes that haven't been modernized for Western tastes. More often than not, though, these dishes are inferior and more expensive than what you could get at a minimall mom-and-pop Vietnamese restaurant in south San Jose.
That wasn't the case with Three Seasons' pho ga ($10). The classic chicken noodle soup is rather minimal in appearance, just a wedge of lemon and a few leaves of basil. Hoisin and sriracha hot sauce are served on the side. But the clear, bright flavors of the broth bring it to life and make this soup as good as what you'd find at a "real" Vietnamese restaurant.
The roasted crab ($34) is a trendy Vietnamese classic that's great here. The legs and claws are stir-fried in a rich black pepper and butter sauce. It's a messy eating experience, and you just have to resign yourself to getting sticky fingers, but it's worth it.
Although Three Seasons calls itself a contemporary Vietnamese restaurant, the menu incorporates dishes from China, Malaysia and the West. In a nod to Malaysia, Three Seasons serves several kinds of satay—skewered and grilled meats and seafood. I loved the lamb ($12), tenderloin dusted with five-spice powder served with a peanut-coconut dipping sauce.
The hamachi shooters (four for $14) are one of the most untraditional items on the menu and one of my favorites: raw hamachi dressed with lime juice, soy sauce and topped with caviar and a raw quail egg. Throw it all back for a veritable umami bomb in a shot glass.
I had my doubts about the Mekong basa ($20). On the menu, it says the freshwater fish is grilled, but our waiter insisted it was lightly battered and fried. He said it was good, and he was right on both counts: it was lightly breaded and fried, and it was good. The dish succeeded because of a light touch and the restrained but flavorful sweet-and-sour sauce that had penetrated the fish.
Seafood dishes are particularly good at Three Seasons, and the sesame scallops ($20) may be my favorite. The plump sea scallops are wonderfully fresh and meaty and encrusted with sesame seeds and dribbled with a light, savory soy glaze.
Three Seasons' version of "shaking beef" ($21)—tender cubes of beef stir-fried with green onions in a black pepper-garlic sauce—was sufficiently tender, but the meat picked up an off, gassy flavor from the flames that I imagined ignited during the wok's time on the fire.
Don't miss Three Seasons' appealing side dishes. The spicy green beans ($8) stir-fried with shiitake mushrooms in a mildly spicy black pepper caramel sauce are fantastic, as are the pea shoots ($8) tossed with shiitakes and garlic.
The one certified stinker was on the dessert menu. The banana spring roll ($8) sounded novel on paper but failed on the plate: gray pieces of banana and chocolate wrapped in rice paper and fried. It might have once been light and crisp, but it arrived chewy and leaden. The vanilla gelato served with it was good, though. A better bet is the ginger crème brûlée ($8). While I have to deduct a point for the custard's slightly grainy texture, it was still quite rich and flavorful. Oh, and the French coffee ($3) isn't fit to drink—harsh and bitter yet watery. 
But those slip-ups and uneven service are easy to forgive. On the surface, Three Seasons resembles the many upscale Vietnamese restaurants but it separates itself from the crowd with its execution and winning, delicious flavors. 
---
Three Seasons
Address: 518 Bryant St., Palo Alto.
Phone: 650.838.0353.
Hours: 11:30am–2pm Mon–Fri and dinner 5:30–10pm Sun–Thu and 5:30-11pm Fri–Sat..
Modern Vietnamese.
Price Range: Most entrees $12–$34.
Web: www.three seasonsrestaurant.com.
Send a letter to the editor about this story.