02.04.09
home | metro silicon valley index | movies | current reviews | dvd review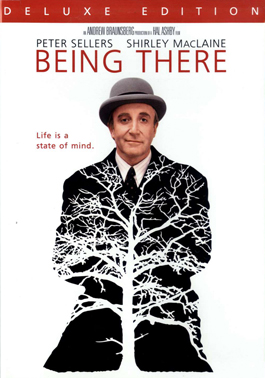 Being There
One disc; Warner Home Video; $19.98
Reviewed by Michael S. Gant
Too bad that the initial release year, 1979, for Hal Ashby's Being There means that the 30th anniversary DVD arrives a little too late to cement the weird way in which the film anticipated George W. Bush. In an early moment, Chance, the simpleminded gardener who is addicted to TV, watches a press conference at which the president shakes hands with world leaders—Chance duplicates the gesture with a childish grin of satisfaction on his face. He senses that it's something worth doing, but he doesn't know why. The film, adapted from Jerzy Kosinsky's novel, offers a deadpan satire on gullibility in high places. After his wealthy retainer dies, Chance (Peter Sellers) accidentally stumbles into the house of a dying power broker (Melvyn Douglas) and his younger wife (Shirley MacLaine). Taken in by Chance's old-money wardrobe (borrowed from his employer) and Zen koans about the importance of pruning the dead wood and not cutting the roots, everyone assumes that he is a financial genius. ("Yes! There will be growth in the spring!" Chance says, sounding like John McCain when he infamously prattled on about the fundamental soundness of the economy last year.) Reborn as Chauncey Gardiner, he meets the president (a harried and very funny Jack Warden, whose sex life goes down along with his standing in the polls) and starts being taken seriously as a policy adviser. The joke seemed funnier when the film first came out; part of the fun then was all the current TV programs and ads that played throughout the movie. Now, they give the whole project a dated feel. Still, the notion that an empty vessel spouting the proper platitudes can rise to the highest ranks of power by being all things to all people remains scarily prescient. Sellers is a marvel of restraint, and MacLaine is somehow ludicrous and luscious at the same time as she throws herself at Chauncey. Caleb Deschanel's cinematography is cool and stately, and Ashby maintains a steady gait throughout two hours without ever succumbing to break into the full trot of all-out farce. The disc includes an interesting making-of feature with actress Illeana Douglas, the granddaughter of Melvyn.
Click Here to Talk About Movies at Metro's New Blog
Send a letter to the editor about this story.