02.04.09
home | metro silicon valley index | movies | current reviews | dvd review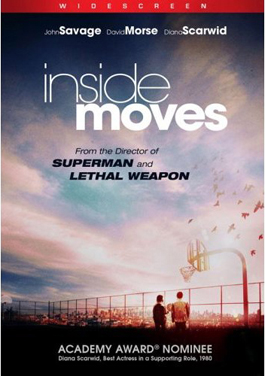 Inside Moves
One disc; Lionsgate; $14.98
Reviewed by Richard von Busack
Vacillating between the poles of Bukowski and Saroyan before gravitating to the latter, this 1980 cult movie is based on a 1978 novel by UC–Santa Cruz alumni Todd Walton, who is still writing and living in Mendocino. John Savage stars as the vet of a failed suicide attempt; he finds solace in an Oakland barroom populated by the lame (a debuting and very young David Cross) and the halt (Harold Russell, a quite good pro-am actor who won double Oscars for his role as the amputee in The Best Years of Our Lives). Savage pays for surgery to fix Cross' limp at Stanford University hospital; now healed, this natural athlete goes on to become a Golden State Warrior. (Many members of the end-of-the-decade Warriors team turn up for cameos.) Diane Scarwid got a deserved Oscar nomination herself for her role as the rough, wavering but basically good-hearted love object. L.A.'s Highland Park district, tragically underused in films, gives a heartwarming performance as Oakland; Echo Park Lake has its own believable cameo as Lake Merritt. It's a loose and likable film. John Barry's soundtrack and Laszlo Kovacs' dreamy, pre-flashed cinematography amp up the lazy mood; this film has a glow on, as they used to say of drinkers. Director Richard Donner made this a little-movie pit stop in-between Superman (1979) and the Lethal Weapon series. (A drinking game could be had if you took a shot for every sighting of the Kryptonian "S" in the background.) Extras include Donner's commentary track, describing the problems of greenlighting even a basically cheerful downbeat movie.
Click Here to Talk About Movies at Metro's New Blog
Send a letter to the editor about this story.