02.04.09
home | metro silicon valley index | movies | current reviews | dvd review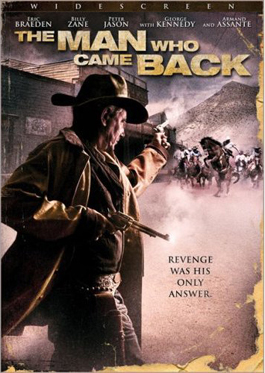 The Man Who Came Back
One disc; Lionsgate; $26.98
Reviewed by Richard von Busack
The title could refer to Glen Pitre, the Louisiana-born, Harvard-educated director best known for 1986's Belizaire the Cajun, an early entry in the indie movie revolution. This lesser yet more graphic revenge Western is set against the real-life Thibodeaux, La., massacre, although the actual focus of the plot is on a Civil War vet (Eric Braeden of The Young and The Restless, who co-produced). The local field hands go on strike ("You ever heard of a little thing called the Civil War?" one asks). After one is lynched for rebelling, Reese (Braeden) tries to defend them. He is sent up the river on a trumped-up charge, leaving his wife and child to pay the full penalty of his rebellion. Reese survives a brutal chain gang to come back and deal out frontier justice. The cast of evil townsfolk includes George Kennedy, Armande Assante and Sean Young; perennial villain Billy Zane is more agreeable than usual as a weakling sheriff. Braeden's weathered face recalls an aging Clark Gable, and his soft but audible German accent gives this film a little difference. In some instances, there's a hushed, occasionally intimate movie in here pressed out of shape by the rigid demands of the genre. Pitre doesn't seem to have much natural zest for violence. The digi-filmed landscapes occasionally have the vastness necessary for a Western, but more often that is not the case. Extras include the "red carpet premiere" outside the Aero Theater in Santa Monica, and a commentary track by Pitre, Braden and co-scripter Chuck Walker.
Click Here to Talk About Movies at Metro's New Blog
Send a letter to the editor about this story.