02.04.09
home | metro silicon valley index | movies | current reviews | dvd review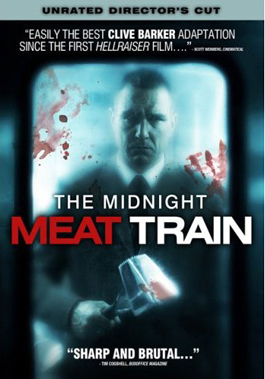 The Midnight Meat Train
One disc; Lionsgate; $28.98
Reviewed by Steve Palopoli
Oh, what you must think of a movie called The Midnight Meat Train. That's no doubt why its planned theatrical run was hacked to shreds. But this adaptation of a Clive Barker short story by Japanese director Ryuhei Kitamura is way more bizarre and fascinating than its shock title suggests. A horror film with a streak of gritty urban fantasy, The Midnight Meat Train is more like a mystery, and it doesn't give up its secrets easily. There is quite a bit of gore—and lots of digital blood, which still doesn't look exactly right. But what matters is that this is that all-but-extinct horror movie that hooks you into a enigmatic plot and makes you need to know what's going on. The action starts with a freelance crime photographer, Leon (played by Bradley Cooper, best known as the douche bag boyfriend from Wedding Crashers), who stumbles onto something inexplicable happening in the subway of an unnamed city. Could be a serial killer, could be something much more remarkable, but it definitely seems to be linked to Vinnie Jones as a sharp-dressed, silent but extremely violent passenger. Brooke Shields has a bit part as an art dealer who pushes Leon further into the dark side of the city. Whether or not the ending satisfies—and really, it must at least get points for being novel—you gotta love the ride. Some interesting extras let us all spend some time with Barker, who is a crazy man. It's fun to listen to him talk up just about anything, which he will when given the chance.
Click Here to Talk About Movies at Metro's New Blog
Send a letter to the editor about this story.