02.04.09
home | metro silicon valley index | movies | current reviews | film review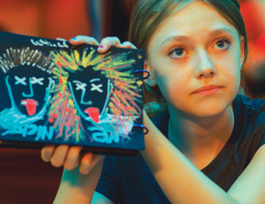 Courtesy Summit Entertainment
EVERY PICTURE TELLS A STORY: Dakota Fanning plays a 'Watcher' in 'Push.'
Movers and Shakers
Dakota Fanning is a standout in director Paul McGuigan's superhero oddity 'Push'
By Richard von Busack
IN Push, director Paul McGuigan continues one of the most perplexingly mannered careers in action cinema, including The Acid House, Gangster No. 1 and the mannered Lucky Number Slevin. A break from all this cinematic reiteration was the interesting medieval drama The Reckoning. McGuigan's eye for unusual actresses (Lucy Liu, Saffron Burrows) is a mitigating factor in his career-long fascination with surface—if not mitigation for his tendency to neglect what's below it. Going Hong Kong this time, McGuigan coasts through the night markets so many times that he's like a shopper who forget something. David Bouria's script boils with stolen X-Men tropes. Push concerns nine different types of metahumans, all with different powers, running amok in Hong Kong. Meanwhile, an evil bald version of Charles Xavier, called Henry Carver (Djimon Hounsou), flies in from the United States. Representing "The Division" he tries to round up all the strange beings. Stealing the show is Dakota Fanning as a "Watcher" named Cassie; they probably should have found a different slang term for clairvoyance, as there are a hell of a lot of Buffy the Vampire Slayer fans out there. Cassie is trying to clarify the visions she has about the imminent death of both herself and the "mover," Nick Gant (Chris Evans). She busily scrawls out felt-tip-marker visions on black paper, illustrating potential futures. Nick has a family of thugs named Pop on his trail; they're "Bleeders." They can emit death screams and make the pupils of their eyes square; they can break glass and "squash your brain like a tomato." Avoiding them and finding a treasure they've hidden, Cassie and Nick run into various representatives of the metahuman community among the neon and the fish tanks. Most memorable is the suave fancy-man Hook (the Cary Grant–accented Cliff Curtis), who is able to cloud the minds of waitresses and others seeking money. But it's the arrival of the powerful "Pusher," or telepath Kira (Camilla Belle) that gums up things.
Lending the small-camera style to a superhero film works off and on, as does the climax on top of a half-finished skyscraper, with the timber bamboo scaffolding shivering and flying into parts as Nick's superpowered punches raise up little rainbow-bursts of distorted light. Push's look is different, and its who-knew-what-when plot is chewing gum for the brain. But the payoff doesn't change the TV pilot–like form of the plot. And there's stuff you recognize in the stew: such as The Night Has a 1000 Eyes. The borrowed ideas stretch from as far back as 1932's Chandu the Magician up to and beyond Scanners. Fanning's precociousness gets a full airing in an amusing teenage drunk scene. Sometimes, Cassie has to drink a little to get a better fix on the future; "It's work!" she protests. There's a force in Fanning that might turn Shelley Winters–oid steamroller. Still, she's regularly choosing slightly exotic parts. The only real clairvoyance this overlong film lends you is the prediction that Fanning is not going to be just another former child star someday.

PUSH (PG-13; 111 min.), directed by Paul McGuigan, written by David Bouria, photographed by Peter Sova and starring Dakota Fanning, opens Feb. 6.
Click Here to Talk About Movies at Metro's New Blog
Send a letter to the editor about this story.