02.04.09
home | metro silicon valley index | movies | current reviews | film review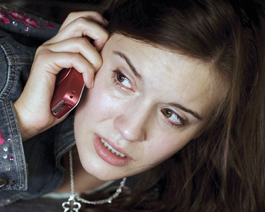 Photograph by Stephanie Branch
GRACE UNDER PRESSURE: Maggie Grace gets swept away by sex-slave merchants in 'Taken.'
American Dad!
Liam is lame as an avenging dad chasing Albanian baddies in 'Taken'
By Richard von Busack
A ROUGH WEEK for France. The Pray for France website perturbs that nation. Steve Martin is back in frogface for another Stink Panther installment. Finally, Taken, a Luc Besson–produced calamity, makes it to the top of the American box office. Director Pierre Morel made District 13, actually a good one. Here, he's holding the jittery camera for a script by Besson, co-written with Sonoma winery operator and film writer Robert Mark Kamen, best known for the Karate Kid franchise. I mention the credits since it beggars the imagination to think of someone actually writing the lines in this movie. All signs indicate some kind of program that not only edits movies but also writes them.
The first sentence programmed in must have been "Bryan Mills defines himself by his love for his daughter." So the first 20 minutes of Taken consist of just such definitions and redefinitions. Mills (Liam Neeson) has a beer bust with a group of former colleagues from his lethal government agency. One of these ex-colleagues says something like, "Remember how you quit your job to be closer to her?" And then another recalls how Bryan previously almost lost his job because he cut work to go to her birthday party. Later, Mills goes to his daughter's latest birthday party and gets the high-hat from the richies there. His present of a very expensive karaoke set is ignored as Kim (Maggie Grace) is distracted by her wealthy stepfather's new pony. But 17-year-old Kim has also been gifted with a trip to Europe. The old agent smells foreign trouble and offers to draw up a map of parts of Paris that must be avoided. Paying little heed, Kim is barely checked into repulsively expensive Parisian surroundings when—boom!—Albanian sex-slavers whisk her away. And only one man, with only 96 hours, can round her up.
Americans can see their worst fears of French perfidy in Taken. The French, by contrast, can see overprivileged American tourists get what's coming to them. The film doesn't cross-cut to Grace's ordeal; it sticks with the avenging dad's stuntman judo-chopping tons of scar-faced and tattooed flesh. To get a thug to talk, Mills has to barbecue him with electricity. This is the kind of movie where a torture victim spits in his torturer's face, twice, and you're supposed to hate him for his stubbornness instead of admiring his spirit for resisting. Rest assured that Mills gets to the porky consumer of this "guaranteed pure" merchandise. Guess who's behind it all? Three words: durka durka durka. Yes, it's Jabba the Arab. Taken's much-quoted ridiculous line is "I'll tear down the Eiffel Tower if I have to!" Maybe it should have been the Kaaba? The fathers in the audience are perhaps most prone to this plot, getting a pang at the scene of the Jiminy Cricket cheep of the unheeded cell phone: Dad trying to call his daughter the very instant before she's swept off by the scum of Albania. This is something that could happen at any time to anybody's little girl. Actual line: "Albanians! Even the Russians give them a wide berth!" But even an overprotective Albanian dad might fall for this relentless, lascivious fantasy: this daydream in which your little princess fetches a cool half-million at some pasha's auction.

TAKEN (PG-13; 93 min.), directed Pierre Morel, written by Luc Besson and Robert Mark Kamen, photographed by Michel Abramowizc and starring Liam Neeson, plays valleywide.
Click Here to Talk About Movies at Metro's New Blog
Send a letter to the editor about this story.