02.04.09
home | metro silicon valley index | movies | current reviews | film review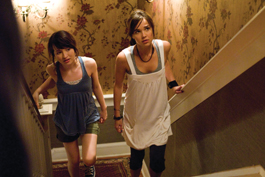 Photograph by Kimberley French
STAIRWAY TO TROUBLE: Emily Browning (left) and Arielle Kebbel are headed for trouble in 'The Uninvited.'
Night Nurse
Elizabeth Banks stands out in horror remake 'The Uninvited'
By Richard von Busack
HAVING STRIPPED the poetry out of the Ji-woon Kim's distinguished 2003 Korean horror film A Tale of Two Sisters, the Yank remake, The Uninvited (by British directors Charles and Thomas Guard) provides a standard but amusing shock machine. It delivers a couple of genuine spinal-glissandos. The best of these tingles is provided by Maya Massar as a mother who won't stay dead; Massar uses the ever-effective trick of moving very slowly and smiling her head off. Why do we fear the dead, when they're so nice and so glad to see us? The Uninvited is old-fashioned enough to work an imitation Bernard Herrmann soundtrack, to creaking doors, to a flash of an untrustworthy mirror and to a disfigured ghost hissing "Murder!" In the mental hospital where she's recovering from a suicide attempt, Anna (Emily Browning) has a recurring nightmare about her terminally ill mother and the night she perished in a fiery explosion. The details include quivering 35-gallon trash bags full of semidead humans; one figure is a spectral red-haired girl who looks like a shrunken and anemic Tilda Swinton. Anna's useless psychiatrist calms her by saying, "We survive by remembering, but sometimes we survive by forgetting." That, of course, is the motto of the modern horror filmmaker.
Anna returns home to her father's place on the coast of Maine. Widowed dad Steven (David Strathairn) has taken up with Rachael (Elizabeth Banks), a handsome working-class blonde who got kicked upstairs from nurse to mistress. Rachael was on duty the night Mom went up in flames. Also waiting for Anna is her wilder sister, Alex (Arielle Kebbel); she hasn't been too distracted by beach parties and boys to watch the situation develop. In her opinion, Rachael "helps Dad cope. Three times a night."
As Rachael, the former nurse, Banks turns in another keen performance; she keeps the inflections down and lets the audience pick up on the nuances. "My first order of business is to fatten her up," she says of Anna. Banks says this so coolly that it's a second or two before the audience remembers Hansel and Gretel. Banks' best scene—in some ways the film's best scene—gets good and close to Bu˝uel's Diary of a Chambermaid, when Rachael is in a malt shop telling Anna, very levelly, how disgusting it was being a nurse.
Browning, who plays the poor haunted girl, was Violet from Lemony Snicket's a Series of Unfortunate Events. Now legally of age, she's smoothly and vacantly pretty, with large cushiony lips. (Banks gives us a little lesbian shock by applying some lipstick on the girl, a process that takes a moment because there's so much surface area to cover.) Unfortunately, Anna doesn't look like someone who just got out of the mental hospital; she doesn't smoke, for instance. In the original Korean film, with its old-world, silent family, no one could be trusted. The downcast daughter was isolated from her father. What one misses is the original film's simple moment of tragic recognition between the sisters; an effect as simple as an offstage clap of thunder.

THE UNINVITED (PG-13; 87 min.), directed by Charles and Thomas Guard, written by Craig Rosenberg, Doug Miro and Carlo Bernard, photographed by Dan Landin and starring Emily Browning and Elizabeth Banks, plays valleywide.
Click Here to Talk About Movies at Metro's New Blog
Send a letter to the editor about this story.