02.04.09
home | metro silicon valley index | the arts | stage | review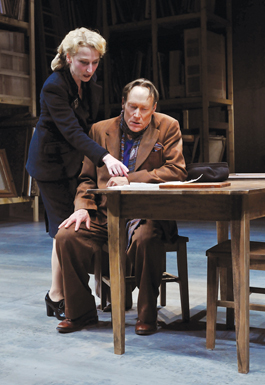 Photograph by Pat Kirk
CUBIST SQUARED: Pablo Picasso (James Carpenter) argues about art with Miss Fischer (Carrie Paff) in 'A Picasso.'
I Paint Alone
San Jose Rep explores Pablo's noir period brilliantly in 'A Picasso'
By Steve Palopoli
THERE'S BEEN a lot of bad art made about great art. The right intentions are always there—good art inspires others to want to make art themselves, and it's only natural that they'd sometimes want to make it about the very thing that inspired them. Usually, however, this idea sounds better than it actually plays out, because the creative process is too insular to make for gripping drama. Such projects also tend to be tainted by idol worship and sentimentality. But the San Jose Rep's production of Jeffrey Hatcher's A Picasso is that rare exception to the rule: It is great art about great art. It is an inspired look at a man who has inspired generations of creative thinkers.
So how does this story of Picasso in a basement on a single afternoon in Paris in 1941 manage to avoid all the pitfalls of art about art? Well, for one thing, by not being true. This meeting between the artist, played by James Carpenter, and the Nazi art expert "Miss Fischer," played by Carrie Paff, never happened. This may seem like a cheat to some. But in reality it saves the play from the fascistic rules and regulations of biography.
Because the trains don't have to run on time in regard to whether or not Picasso did or said these actual things, the play has the freedom to be about bigger things—truly worthwhile things. It raises issues about the power of creativity in a way that doesn't get tied up in abstractions or academia. Instead, it grabs the audience and makes them care about some of the most important questions we can ask about why we care about Picasso—and by extension, why we care about art at all. The way it does this is to set up a cat-and-mouse game between Fischer, the interrogator, and Picasso, the interrogated. Paff and Carpenter play out a gripping struggle for power, full of confessions and lies and a lot of one-liners, such as Picasso's assessment of German aesthetics: "The German want kittens and dogs ... and Poland."
Director Jonathan Moscone has imagined this confrontation in a noir setting, an era-appropriate stroke of genius. After this, I can almost picture Picasso as the lead character in a hardboiled crime film from the '40s. But despite initial appearances, there are no caricatures here. Just an intriguing rumination on great art that succeeds where so many have failed.
A PICASSO, a San Jose Repertory Theatre production, plays Tuesday at 7:30pm, Wednesday–Friday at 8pm, Saturday at 3 and 8pm and Sunday at 2pm through Feb. 22 at the Rep, 101 Paseo de San Antonio, San Jose. Tickets are $16–$61. (408.367.7255)
Send a letter to the editor about this story.