02.04.09
home | metro silicon valley index | columns | style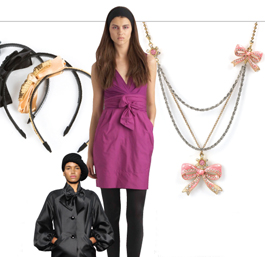 BOW WOW WOW: Get wrapped up in a dress by\ DKNY (top), jacket by Banana Republic (below), headbands by Felix Rey and necklace by Betsey Johnson.
Style
All Tied Up
By Jessica Fromm
LOVE IT or hate it, that satellite dish–size bow hat that Aretha Franklin donned while serenading the crowd at Barack Obama's inauguration last month made a statement, and was actually absolutely on-trend.Bows are back, and the Queen of Soul's heather-gray, bejeweled cloche has taken on a life of its own. Larger than her face but not bigger than her voice, Aretha's bow-centric headgear has sparked a viral Internet sensation. Guilty-pleasure PhotoShopped images of the now iconic chapeau can be found all over the blogosphere, depicted on the heads of everybody from Dick Cheney to Pee-wee Herman. The hat's even got its own website (www.ArethaHat.com) and Flicker Group (www.flickr.com/groups/[email protected]/).Now, only a true diva can handle a big-ass bow hat like that, but it doesn't mean bows are off-limits to us mere mortals.
Essentially ornamental knots, bows have graced garments for hundreds of years in one form or another. Still, there has been a virtual bow eruption in the last season or so, with the adornment becoming progressively more visible and available in a greater assortment of sizes, styles and placements.
From small, cute ribbon bows to soft, floppy chiffon bows to gigantic novelty bows made from crisp satin, there are a variety of ways to work eye-catching knotted accents into a wardrobe.
Accessories are a good place to ease into this trend. It's hard to screw up a flourish of bows on top of a pair of peep-toe stilettos. Thanks to the popularity of last fall's Valentino metallic-leather bow clutch, bow-adorned bags are all the rage. Thankfully, you can avoid the $895 Saks price tag by finding similar offerings this spring at Bebe and Steve Madden.
If you're still on the fence about whether you can work this trend, just try fastening a simple floral scarf around the waist of a loose-fitting shift dress, making sure to tie a fluffy bow in front. It's a pretty, simple finishing touch that'll give some curves without throwing you for a loop.
If looking cutesy isn't a problem, try an embellished headband a la Gossip Girl's Blair Waldorf. A stylish bow headband is a great way to keep hair out of your eyes, especially if you hopped on last season's severe bangs bandwagon, and are letting your fringe grow because you're sick of looking like Edith Head.
Hair bows have the danger of looking twee, though, so avoid coming across like Minnie Mouse by keeping them minimal.
Steer clear of embellishment overload. Don't look like an explosion in a bow factory by tacking-on several mismatched bows at once. Look timelessly ladylike, not cluttered and outlandish.
Here are a few bow-inspired treats to get all tied up in:
Try softening up a look with a demure Ribbon Bow Cardigan by New York–based brand Milly. Made from luxuriously soft cashmere knit, the button-up has hand-tacked grosgrain ribbons trailing across the front and back in a sweet bow-shaped design.
Get wrapped up in a Self-Tie Sleeveless Dress by DKNY. Coming in a sumptuous berry tone, the frock features an empire waste and tie sash, perfect for fastening a charming, graceful bow. It's sold at Bay Area Macy's stores.
The S Loves C by Spring & Clifton Bow Long-Sleeve Sweater has two cartoonish red bows tacked on at the clavicles (www.urbanoutfitters.com), while Banana Republic offers a stylish Black Bow-Tie Neck Puff-Sleeve Monogram Jacket.
The Betsey Johnson Ice Princess Necklace shows off an adorable enamel bow set with sparkling Czech stones, while the Mimi Headband by Felix Rey/ adds a little glitter to tresses with a sequin and satin bow-detail.
Send a letter to the editor about this story.