02.04.09
home | metro silicon valley index | columns | silicon veggie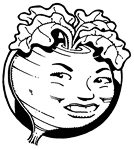 Silicon Veggie
Going All In
By Elisa Camahort
  LATELY, more of the people I know are considering going vegan and they're asking for my advice on how to do it. One common question I get is whether it's best to approach veg*nism gradually, or just go for it cold turkey (no pun intended).
If you check "reliable sources," you see lots of ideas about phasing in. There's the "meatless Monday" approach—one day a week as a beachhead from which to launch your full on veg assault. There's the "veg until 6pm" approach: Being veg all day but allowing yourself to eat nonveg for dinner. Lots of people start by eliminating veal, then all red meat, then chicken and finally seafood. Dairy and eggs come later for those who really commit.
Those approaches work for lots of people. But that is not the approach that works for me. I am one of those gals who need to draw a line in the sand. I benefit from flipping a switch that says, "I no longer eat that now."
That's why I've been far more successful at staying veg than I have been at staying thin. Staying thin requires moderation, discipline and judgment. Oh sure, some folks think it takes discipline to be veg but believe me: It takes way more discipline to eat some but not too much of something (like, say, vegan chocolate cake) than it takes to just not start eating it at all!
While many people asking me about how to transition to veg are doing so for health reasons, most are driven by some kind of ethical consideration, sometimes animal focused, sometimes environmentally focused.
It's another reason I think flipping the switch is the best approach. What kind of cognitive dissonance are you setting yourself up for when you tell yourself you think something is the right thing to do, but you're only going to do it sometimes, when it's convenient or when it's easy.
Would you take the same approach to teaching your kids about right and wrong? Would you take that same approach to, for instance, lying? I don't think most of us would.
I may be in the minority, but when my friends come to me and say they're thinking of going veg (especially for any ethical reason) I recommend going cold turkey. And if they slip up, I suggest self-forgiveness and getting right back on the horse. I may mix my metaphors, but after 20 years I do know how to be a successful veg.
Send a letter to the editor about this story.