02.06.08
home | metro silicon valley index | silicon valley restaurants | review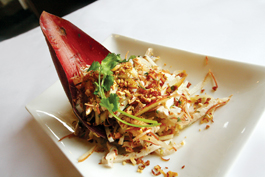 Photograph by Felipe Buitrago
Flower Power: The Exotic Banana Flower features sliced banana blossom tossed with chicken.
Starting Merlion
Ambitious Singaporean cuisine takes off in Cupertino
By Stett Holbrook
A MERLION, as you will learn by gazing upon the water-spouting fountains outside Merlion Marketplace restaurant, is a mythical creature that's part fish and part lion. It's also the symbol of Singapore. As you might guess, the food at Merlion is based on Singapore's multicultural cuisine as well as Western and other Asian influences.
The restaurant occupies a big space on Stevens Creek Boulevard near Wolfe Road. It's a great looking restaurant. The circular dining room is ringed with windows and big booths. The open kitchen, high ceiling and exposed heating ducts painted a flat black give the room a sleek, modern feel. The glassed-in wine cellar and flowing bar flanked by ornately carved wood panels adds to the restaurant's appeal. However, all that glass and tall ceiling can make the place a bit cold.
Singaporean food is a showy cuisine that mixes influences from Chinese, Thai, Indonesian, Indian and indigenous cultures. It's great stuff. Most of the food at Merlion is served in a small-plates format which makes it great for sharing.
Satay is one of the world's best finger foods and it's quite good here ($5). It's available with lamb or chicken. I ordered the lamb and the meat was tender and pleasantly charred on the outside and served with a great, spicy-sweet peanut sauce.
Martabak ($7.95) is a classic street snack from Indonesia and Malaysia that's typically made with ground lamb. Here the griddled flat bread is loaded with gooey cheese and ground beef. Another good starter is the samosas ($7.95), brittle, lightly fried pastries stuffed with potatoes, peas and onions served with a sweet chile sauce.
Too bad the prawn Thai meugkum salad ($7.95) isn't on the dinner menu. It's another delicious starter dish, a half-dozen little salads composed on top of spinach leaves packed with the bright flavors of diced shrimp, shallots, lime and coconut with a great, tangy dressing that I'd be willing to buy by the bottle.
From the list of entrees, the wok-fried black pepper lobster ($30.95) was a star. The cracked lobster was tender and sweet and served dramatically in a shallow bowl atop a sultry, pepper-spiked sauce. Chef Henry Lau really has a way with sauces. Even with dishes that otherwise fall short, the array of exciting sauces really stands out.
Char kway teow ($12.95) is a staple noodle dish in Malaysia that is the country's version of a double bacon cheese burger—a fatty, high-caloric artery clogger made from wide rice noodles, shrimp and pork sausage. Merlion's version isn't low-fat, but it's lighter and livelier than other versions I've had. The wok-fried garlic chicken noodles ($9.95) is another winner from the list of noodle dishes.
Those were the hits, but unfortunately there were almost as many misses. When I asked the waiter to describe the unusual pairing of chicken rendang with gnocchi ($11.95), he explained gnocchi are mashed potatoes that have been baked and fried. That's not the gnocchi I know. But when the dish arrived his description wasn't far off the mark. Instead of silken little potato dumplings, the gnocchi was mealy and doughy. The dry chunks of chicken breast didn't help, and while the coconut gravy was good there was far too much of it. In this case, the meeting of East and West was a culture clash.
The lemon-grass skirt steak ($20.95) was another East-West flop. The meat was cut into strips and piled into a mound. Fanning the meat out would have prevented the steaming meat from softening the crusty caramelization from the grill into a flabby mass. The garlic fries served with it were cold, too.
Sambal, a spicy chile sauce, is one of the signature ingredients of Singaporean and Malaysian cuisine, but in Merlion's sambal prawns ($12.95) is was just a thick, soupy, overly sweet mess.
For a place with fine dining aspirations, service is uneven. On one occasion our server came back twice to double-check our orders. We left a plate of food on the table for a friend who was arriving late, but it was whisked away when we weren't looking even though we had previously asked the buser to leave it alone.
But the restaurant does its best to make amends. Because our server wasn't on the ball enough to ask why the skirt steak went uneaten, the chef came out to find out what went wrong and then graciously removed the item from the bill.
Desserts are best avoided. The changing lineup of crème brûlée ($7.50) is decent, but other desserts like the tropical run tiramisu ($8) and summer delight ice ($7.50), a deconstructed version of a popular Malaysian dessert, both land with a thud.
Cupertino needs a restaurant like Merlion. The city is loaded with a variety of low-priced, casual Asian restaurants, but there are few places with greater aspirations and Merlion is definitely has big ambitions. It's just not there quite yet.
---
Merlion Marketplace
Address: 19628 Stevens Creek Blvd., Cupertino
Phone: 408.777.8228
Hours: 11am–3pm, 5–10pm
Cuisine: Pan-Asian
Price Range: $8.50–$30.95
Send a letter to the editor about this story.