02.06.08
home | metro silicon valley index | music & nightlife | band review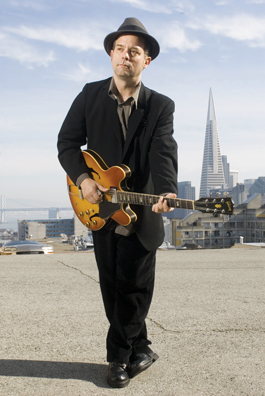 Bay Area Under Attack: From a giant Will Bernard!
Will Power
Bay Area guitarist Will Bernard gets props from high places
By Andrew Gilbert
WILL BERNARD is taking a bite out of the Big Apple, and so far it's tasting mighty sweet. Before he decamped to Brooklyn last year, the Berkeley-raised guitarist was a mainstay on the Northern California music scene for more than two decades, acquiring an avid following through his work with the funk-laden cooperative quartet T.J. Kirk (featuring fellow guitarslingers Charlie Hunter and John Schott, along with drummer Scott Amendola) and Bernard's own groovalicious combo Motherbug.
His latest album, Party Hats, is up for a Best Contemporary Jazz Album Grammy, and he just recorded a follow-up with keyboardist John Medeski, bassist Andy Hess and drummer Stanton Moore focusing on original tunes—except for one cover Bernard describes as "a dub/ska version of 'Gonzo,'" a tune by Crescent City R&B legend James Booker.
A highly versatile player, Bernard hits the Catalyst as part of the Sonoma roots reggae band Groundation. It's his third year touring with the group, which was founded in 1998 by Marcus Urani, Ryan Newman and Harrison Stafford (who taught one of the only university courses on the history of reggae at Sonoma State University from 1999 to 2001). The band has honed an infectious sound informed by jazz and dub but steeped in reggae history.
Bernard joined the band in 2006 when Groundation was touring with Leroy "Horsemouth" Wallace, the veteran Jamaican drummer immortalized in the 1978 film Rockers.
"I was a big fan of the movie Rockers, and it was exciting to get to know Horsemouth, who's a fantastic drummer, and get to know all about the history of reggae from one of the inventors," Bernard says from his apartment in Park Slope. "All the players in Groundation are fantastic musicians. Ryan Newman and Paul Spina both played on Party Hats. They come from a lineage of Sonoma County people, guys I play with a lot."
Bernard has always had a knack for finding his way into creatively charged ensembles. The mild-mannered guitarist first made his mark with fellow Berkeley High alum Peter Apfelbaum's stylistically sprawling Hieroglyphic Ensemble, which presented its cornucopian musical feast at clubs and jazz festivals around the region. Bernard gained national attention with T.J. Kirk; at the same time his band Medicine Hat was also signed to a major label.
In recent years he's toured widely with Galactic drummer Stanton Moore and Greyboy All-Stars organist Robert Walter. Hammond B3 legend Dr. Lonnie Smith is another regular employer. And when the brilliant New York jazz clarinetist Don Byron performed at Yoshi's last February and needed a guitarist to play the instrumental R&B of Junior Walker, he gave Bernard the call. Bernard can also be found supplying a rock edge to percussionist Anthony Brown and the Asian American Orchestra's Gershwin project "American Rhapsodies" and playing French cafe music with Odile Lavault's whimsical Baguette Quartette. "I'm a little bit of a francophile," Bernard says.
It was Bernard's knack for blending into any musical context and elevating it with his deft rhythm work and stinging single-note lines that impressed Stanton Moore when they first played together at JazzFest in New Orleans.
"When he sat in, he's one of the few guitar players who didn't showboat," Moore says. "He wasn't trying to make his personal mark as much as making the music better. He's got a great ear, and a tremendous knowledge of different styles. He's probably the most versatile guitar player I've ever worked with. Anywhere we try to go, he can cover that area better than anyone. Will plays the funk shit, he plays the jazz shit, and he's just killing."
GROUNDATION FEATURING WILL BERNARD plays on Wednesday (Feb. 6) at 7:30pm at the Catalyst, 1011 Pacific Ave., Santa Cruz. Tickets are $16-$19. (831.423.1336)
Send a letter to the editor about this story.