02.06.08
home | metro silicon valley index | the arts | stage | review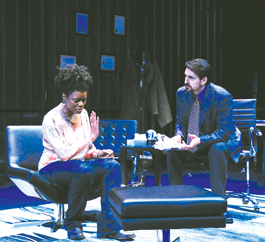 Photograph by Pat Kirk
UNDER A SPELL: Azmera (Kenya Brome) seeks help from hypnotherapist Philip (Thom Rivera) in 'Tranced.'
Ripples
One woman's 'Tranced' memories affect history in San Jose Rep production
By Marianne Messina
WHEN SOMEBODY takes control of your options, you fall into a trance," explains Philip Milaad (Thom Rivera), the expert hypnotherapist in San Jose Repertory Theatre's production of Tranced. When African grad student Azmera (Kenya Brome) comes to him with her panic attacks, Dr. Milaad (sounds like malade, French for ill) is not so much a healer as a psycholinguistic chess player. He lulls the cagy and challenging Azmera into trusting him by a series of manipulations. We only learn about his strategy when his office zone goes dark, Azmera freezes like a DVD frame and high-powered Washington journalist Beth (Stacy Ross) arrives on the scene to reveal that the preceding therapy session was a recording.
Like Philip, Beth is a star in her field, and Philip plays back Azmera's horrific story, told under trance, so Beth will write about it. Beth in turn takes the tape to an undersecretary friend/source named Logan (James Carpenter) and pressures him to take action to stop future horrors in Azmera's homeland. Such "frames" of action continue to move outward, a ripple effect from the pebble drop of Azmera's story told on a couch. The sense of water ripples is redoubled by rills of water cascading down a water wall behind the action—designed by Kris Stone with director Barbara Damashek.
Stone adds visual "frames" to the temporal frames, supporting playwright Robert Clyman's idea that trancing occurs whenever we create story boxes and present our version of the world in them. The stage zones, two "power" offices—Logan's and Philip's—merge into each other by way of a central third desk in ambiguous territory. Conceptually neat, this clutter of artifacts and furniture (all black and silver), stretching from one side of the stage to the other, tries, like the play, to say too much (gender power politics to World Bank Machiavellianism), and the production ends up more smart than heart.
In the plot's many turns, everyone seems to be hiding or scheming or manipulating while the calm water burbles on, enhanced by Daniel Ordower's tasteful lighting and occasional sound, an impressionistic Africa in drums and faux kalimbas. This watery stillness can't help but foreground the shabbiness of much human machination. Brome makes a wonderful Azmera, bright enough to be a graduate student, type-A enough to be having panic attacks and believable in accent and rhythm. The actual trancing mechanism seems a little too subtle—or maybe I was tranced and missed it. Yet, not too tranced to miss Stacy Ross's twitching right index finger (a nice touch) as Philip makes the suggestion that Azmera raise her right index finger.
Ross' sophisticated phrasing takes Clyman's frequent trailed-off sentences and makes them hint at multiple meanings. Rivera's Philip is a bit of a stiff at first, his casual/calculated wit coming off like something you might see in a presidential debate. James Carpenter seems to have poured himself into Logan with a natural ease; his sexist humor pulls together strands of friendly, self-deprecating and irritating. Oddly, in this liberal-leaning exploration of manipulation, global and interpersonal, the token conservative turns out to be the most warm-feeling character.
TRANCED, a San Jose Repertory Theatre production, plays Tuesday at 7:30pm, Wednesday–Friday at 8pm, Saturday at 3 and 8pm and Sunday at 2pm through Feb. 24. Tickets are $37–$55. (408.367.7255)
Send a letter to the editor about this story.